Facility Manager Cost Saving/Best Practice Quick Reads RSS Feed
New $41.5 Million New York Library Fails Accessibility Tests
November 13, 2019 - Contact FacilitiesNet Editorial Staff »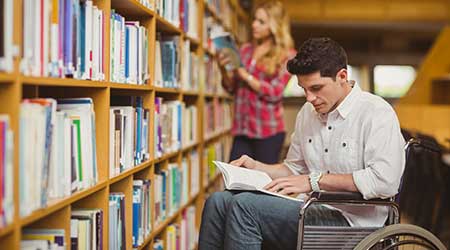 Institutional and commercial facilities are more accessible than ever. Many maintenance and engineering managers have renovated and upgraded areas of their buildings that had presented roadblocks to accessibility. Many architects have incorporated universal design into their new projects to ensure access throughout facilities. The American Society of Landscape Architects recently published a Guide to Universal Design to encourage just such a focus on accessibility.
But major, high-profile challenges to accessibility remain, as demonstrated by a new $41.5 million public library in Long Island City, N.Y., which ascends over multiple landings and terraces, providing stunning Manhattan views to patrons. Several terraces at the Hunters Point Library are inaccessible to people who cannot climb to them. And the five-story, vertically designed building only has one elevator, creating bottlenecks at times, according to The New York Times.
The accessibility issues have left officials with the Queens Public Library hurrying to find solutions and the architects exploring ways to retrofit the building.
It has also raised the question of how the pricey public building, nearly two decades in the works, made it through the lengthy planning process without more consideration for accessibility.The placement of the adult fiction section on three terrace-like levels between the library's first and second floors was the first issue patrons noticed. A few complained that they couldn't access the fiction books because those levels were only accessible by stairs.
Library officials responded that librarians could simply retrieve those books for disabled patrons, a solution in compliance with the Americans with Disabilities Act. But on social media and among advocates for the disabled, that rationale got panned.
"To me, that is the response of somebody who never had the experience of going somewhere and not being able to fully participate," says Christine Yearwood, founder of the disability rights group, Up-Stand. "Part of what universal design is about is allowing everyone to independently enjoy spaces. Having to ask someone else to help you is, at worst, demeaning, and at best, a limiting experience."
Dan Hounsell is editor-in-chief of Facility Maintenance Decisions.
---
Comments