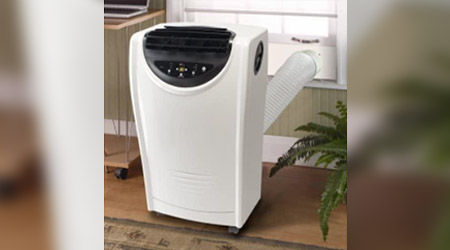 Portable Air Conditioners Recalled Due to Fire Hazard
The Consumer Product Safety Commission has issued a recall for Royal Sovereign Portable Air Conditioners due to fire hazard. A faulty drain motor can ignite the plastic enclosure of the portable air conditioner unit, posing serious risk of fire, injury, and death.
According to CPSC, on April 24, 2016, a woman died from smoke-related injuries after the portable AC unit caught fire. It's unclear why it took five and a half more years to issue the recall. There are 11 additional reports of the portable air conditioning units catching fire resulting in about $1 million in property damage.
The recall affects 33,570 units sold between March 2008 and August 2014. The CPSC's recall page lists the affected model numbers. If you have one of these units, you should immediately stop using the machine, unplug, and consult Royal Sovereign's recall site for further instructions for severing the electrical cord and contacting the company for a pro-rated refund.
Greg Zimmerman is editor, Building Operating Management magazine and FacilitiesNet.com.
---