Facility Manager Cost Saving/Best Practice Quick Reads RSS Feed
Getting Federal Funds for School Upgrades Proving Challenging
June 25, 2021 - Contact FacilitiesNet Editorial Staff »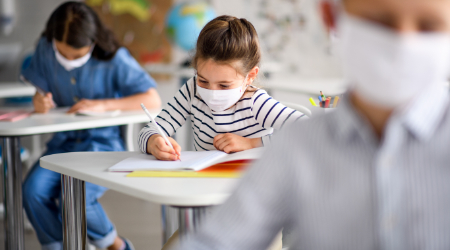 The nation's K-12 schools are center stage these days, and not just for the efforts of maintenance and engineering managers to protect occupants from airborne illnesses such as COVID-19. They are a major focus of President Biden's $2 trillion infrastructure plan, which provides $100 billion for new and upgraded schools, including improving ventilation systems. As has been the case for decades, though, deferred maintenance is complicating the issue because of its deep impact on the condition of schools.
For many schools, HVAC systems generally have not been a high priority. Education Week reports that air-quality improvements generally have proved to be a lower priority compared with other prevention strategies because of cost and pressure from the communities, according to a recent ASHRAE survey of more than 4,000 public and private schools on their efforts to improve indoor air quality during the pandemic.
Consider the challenge presented by the condition of Maryland's K-12 schools. More than 280 public schools without air conditioning could have to spend $818 million to install new heating and cooling systems by 2025 to keep classrooms at a safe temperature, according to Maryland Matters. These schools also might have to spend an additional $32.8 million every year to operate and maintain the HVAC systems.
In the case of Virginia's schools, limits on the uses of federal funding — in this case, COVID-19 relief funds — are creating concerns, according to the Virginia Mercury. Virginia schools received nearly $2 billion from the federal government in its latest round of COVID-19 relief funding for public education. But while current guidance allows that money to pay for pandemic-related improvements — including new HVAC systems — it strongly discourages new school construction, according to James Lane, the state's superintendent for public instruction. Local administrators worry those restrictions could lead to millions of dollars in spending on school buildings that actually should be replaced.
Dan Hounsell is Senior Editor, Facility Market.
---
Comments