Facility Manager Cost Saving/Best Practice Quick Reads RSS Feed
Changing the Image of the FM Profession
June 24, 2021 - Contact FacilitiesNet Editorial Staff »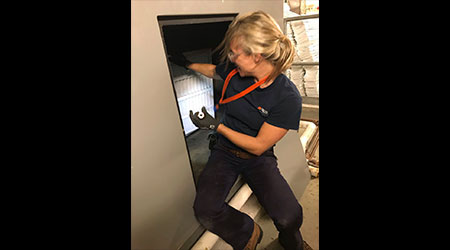 There is a widely held belief that the direct path to a respectable occupation and a decent income is khakis and cubicles. That people view attending college and a desk job is the only viable — and honorable — employment path.
This is a tarnished image of the facilities maintenance (FM) profession that needs polishing, an industry expert says.
"The perception is that if you work in maintenance, you weren't smart enough to get into college. That the reason you are in maintenance is that you flunked out of school," says Andy Gager, a former operations manager and owner of AMG International Consulting Inc. "But these are honorable careers. Instead, the perception should be, 'I work in maintenance and I am proud of it.' Not everyone wants or has a desire to attend college."
The industry must do a better job getting others to view this work favorably, says Gager.
"Try operating on a patient without an HVAC system with a HEPA filter in place or without lights," Gager says. "Nobody understands how important maintenance is until a building is 100 degrees with 100 percent humidity indoors because the HVAC system went down. No matter what industry, without maintenance nothing gets done."
The industry must change the view that maintenance is a dead-end job, and show that it's "a competitive and higher compensatory career," Gager says.
Programs like the one at the University of Virginia (UVA) are designed to help improve the image of FMs. Brian Shifflett is the UVA apprenticeship program manager for a 40-year-old program that helps keep the technician pipeline full.
Shifflett says it is possible for an individual to work up to a six-figure salary, but money isn't always the motivator for prospective employees.
Even so, "money is not a motivator. It might draw workers initially, but they'll be back asking for more in a few months," Gager says. He says what attracts people to a job is the work itself. Today's facilities maintenance technicians perform predictive work that requires an understanding of thermography, vibration analysis, the Internet of Things, building management systems, and other advanced technologies.
"They can predict asset health with this technology to cure equipment ills before they become fatal," Gager says. "The industry doesn't need people who can change a light bulb. It needs people who can look at why it failed and predict when it will go out again."
Changing perceptions requires regular outreach. UVA visits high schools within a 50-mile radius to attract passionate students to the industry.
"We try to go to each area school twice a year," says Shifflett. "The first time, we talk about the program, how to do a resume, and how to prepare for an interview. The next time, we take apprentices along so students can communicate with people in the program."
The university works to attract a diverse set of workers. When UVA officials identified fewer young women considering apprenticeships, they started taking female apprentices to schools.
"We also do community workshops targeted to women where they learn to wire an electrical box, fix a hole in the wall, or something like that," Shifflett says.
Leave no stone unturned when looking for candidates, Gager says, noting often organizations overlook good sources for employees.
"Look for candidates at high schools, tech schools, among ex-military members, and tap into the local chamber of commerce," he says.
To read this full article, titled "The Answers To Attracting Technicians," check out our new premium content product, fnPrime. With fnPrime, you can get access to dozens of premium articles, webcasts, videos, and ebooks. And throughout the year, you'll get discounts on events, and invites to exclusive member-only functions. Sign up today for only $19.99 a month.
Ronnie Wendt owns In Good Company Communications, a business focused on writing for facilities management and other industries.
---
Comments