You Might Like
On FacilitiesNet
Facility Manager Cost Saving/Best Practice Quick Reads RSS Feed
Department of Energy Establishes Pump Efficiency Standards
March 31, 2016 - Contact FacilitiesNet Editorial Staff »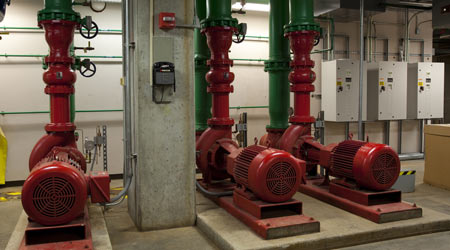 The Department of Energy (DOE) recently established new efficiency standards for commercial pumps, and maintenance and engineering managers of institutional and commercial facilities are among the beneficiaries of the new standards.

According to the American Council for an Energy-Efficient Economy (ACEEE), the new standards are the first of their kind in the nation. Mark Handzel, the vice-president of product regulatory affairs and director of HVAC and commercial buildings for Xylem's Business Unit Americas, said work on the standards started in 2011. Xylem served as one of the manufacturers who consulted with the DOE in establishing the standards.

"We agreed on a scope for the pumps that would be included in this initial rule making," Handzel says. "What we really tried to focus on was staying in tune with Europe." The Europeans adopted their standards before the U.S. did.

The standards apply to clean water pumps between 1 and 200 horsepower, pumps that are often used for irrigation and circulating hot water in commercial buildings for heating and cooling. The new standards require at least 25 percent of pumps in today's market be redesigned to improve efficiency. The new standards take effect in 2020.

The regulations require no immediate action from maintenance and engineering managers to replace pumps that fail to meet efficiency standards.

"Everything is 100 percent grandfathered," Handzel says. "Nothing has to be replaced. But when they do go to replace it, they may not find that exact product available. In all probability, if it has been upgraded, it will be the upgraded design."

Are you unsure about replacing or repairing your HVAC pumps? Read more on the topic here. This quick read was submitted by Dave Lubach, associate editor for Facility Maintenance Decisions. Reach him at dave.lubach@tradepress.com.
---
Comments