Portable Equipment Solves Cooling Challenge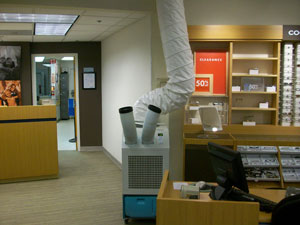 Luxottica Retail stores are designed with three cooling zones – a retail section, a lab, and an examination area – that present challenges when trying to create the ideal indoor environment
April 7, 2010 - HVAC
Luxottica Retail stores are designed with three cooling zones – a retail section, a lab, and an examination area – that present challenges when trying to create the ideal indoor environment.
For customers buying prescription eyewear, an air-conditioned environment helps ensure a comfortable shopping experience. For retailers making lenses on-site, lab areas must be cool to prevent critical heat-generating equipment from breaking down.
To address this challenge in thousands of its locations, Luxottica Retail has established a back-up cooling plan with Atlas Sales & Rentals Inc.
"We have known for years that portable equipment provides an excellent solution for emergencies or for temporary cooling when the regular A/C equipment is shut down for maintenance or repair," says Dennis Feix, Luxottica Retail's senior maintenance manager. "We used to requisition this equipment as needed through our various service regions. It was a somewhat piecemeal approach and was more time-consuming and costly than we wanted it to be."
In mid-2007, Feix heard of a program Atlas offered to national account customers.
"We learned that it would be possible to order portable cooling equipment from a central point of contact, with immediate response and consistent pricing," he says.
Luxottica signed up for the program, and the centralized approach to portable cooling has paid dividends.
"In addition to the convenience of 'one-stop shopping,' we are working with a vendor who knows our stores and our equipment needs, making the process both efficient and dependable," Feix says.
Cooling three separate zones in one space is no longer the challenge it once was.
"Portable cooling can be delivered to any or all zones as needed," Feix says. "The most common applications are emergency cooling in the event of an air-conditioning breakdown, but sometimes portables are used proactively when an A/C unit is down for scheduled maintenance or replacement."
---