Lighting Retrofit: Campus Shines Bright at Night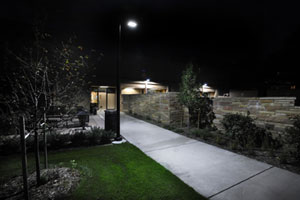 Safety and security are of utmost importance for the 37,000 students and faculty members who travel throughout the University of Colorado at Boulder campus all day and night
April 6, 2010 - Lighting
Safety and security are of utmost importance for the 37,000 students and faculty members who travel throughout the University of Colorado at Boulder campus all day and night.
To help create a safer environment at night, exterior campus lighting illuminates vehicle parking lots and parking structures, main pedestrian walkways, bike paths, and most campus building exteriors.
Joe Branchaw, the university's electrical engineer, is taking on a long-term project to relight the 132-year-old campus. He selected light-emitting diode (LED) area lights from BetaLED for a trial in late 2007. Branchaw was pleased with the improved white light, energy savings, and reduced maintenance, so he specified LED luminaires to replace the metal-halide fixtures throughout campus.
Almost three years after the trial, Branchaw is relighting the entire campus with LED area, security, and parking luminaires. His goal is to complete the campus-wide installation in 2012, resulting in a payback in energy and maintenance savings of about three-five years.
The campus features 50 LED area luminaires in six locations, illuminating walkways and the top level of a campus parking structure. In most installations, workers have replaced metal-halide, dome-top fixtures with LEDs using existing poles when possible to save money. LED area lights also illuminate walkways that lead to university housing, improving visibility and safety.
---