Utility Vehicles Bring Versatility to Grounds Care
Department needs, equipment options and attachment considerations play central roles in making smart selections
OTHER PARTS OF THIS ARTICLE
Pt. 1:
Specifying Utility Vehicles: Recipe for Success
Pt. 2:
Specifying Utility Vehicles: Understanding Needs and Options
Pt. 3: This Page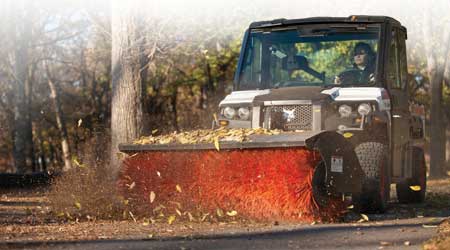 Bobcat Co.
While utility vehicle attachments might a relatively low priority for some managers in the market for a new vehicle, it is a make-or-break factor for many others. Attachments tend to be a strong selling point for many utility vehicles. Manufacturers have responded to demands for attachments by developing an array of attachments. The selection of attachments varies from large pieces of equipment to mid-size and small pieces.
While utility vehicle manufacturers have their own attachments, purchasing from a manufacturer of grounds attachments has become an increasingly popular option. These companies provide a selection of attachments for utility vehicles, and their attachments are also designed to fit with a variety of major manufacturers.
The sole purpose of mowing attachments is to cut grass. The operator can determine the length of the cut by lowering or raising the attachment. Mowing attachments place the blades on the front of the unit, and some operators prefer this option over ride-on mowers, which have the blades in the rear, because it can create a more even cut.
A bucket attachment for a utility vehicle allows the operator to dig, carry and load a range of landscaping materials. The driver operates the attachment using a joystick from inside the cab, causing the bucket to lift, scoop or tilt its contents.
An operator can use a snow blade attachment to remove light to moderate amounts of snow from sidewalks, driveways and parking lots in winter, and in the summer, they can use the attachment to perform light grading, making it another year-round attachment.
A sprayer allows crews to apply fertilizers and other chemicals to landscape and turf areas. The attachment greatly reduces the amount of time a worker has to spend walking around the property with a handheld sprayer wand connected to a backpack tank.
A spreader enables the vehicle operator to spread seeds, salt, sand, and fertilizer, among other materials. The operator pours the contents into the top of the attachment, which distributes the contents in a spray to cover as much area as possible.
When ordering an attachment online, managers need to be certain all parts are included. It is not uncommon to order attachments in bulk before the season begins and store them before use later.
The potential problem with this strategy is that it can increase the chances that an attachment does not meet expectations, does not fit with the equipment or is missing parts. To mitigate this risk, managers need to make sure they receive everything they ordered.
Mike Fitzpatrick is vice president of U.S. Lawns which has more than 260 franchises nationwide. Fitzpatrick has more than 30 years of experience in the green industry.
Continue Reading:

Grounds Management

Specifying Utility Vehicles: Recipe for Success

Specifying Utility Vehicles: Understanding Needs and Options

Utility Vehicles Bring Versatility to Grounds Care
---
---
---
Related Topics:
Comments