Specifying Utility Vehicles: Understanding Needs and Options
Department needs, equipment options and attachment considerations play central roles in making smart selections
OTHER PARTS OF THIS ARTICLE
Pt. 1:
Specifying Utility Vehicles: Recipe for Success
Pt. 2: This Page
Pt. 3:
Utility Vehicles Bring Versatility to Grounds Care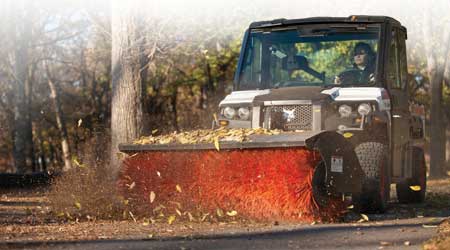 Bobcat Co.
Once managers have carefully reviewed the size and maneuverability of utility vehicle options, the next step is to determine which kind of vehicle is the best fit based on the specific activities of grounds crews.
Many manufacturers are innovating utility vehicles to perform grounds care tasks that traditionally had been performed by work trucks. Utility vehicles are not just for recreation anymore. They have become versatile, durable, and comfortable, and they come with a variety of features and attachments that make them an increasingly valuable asset for grounds departments.
While managers often gather a great deal of information that can help them narrow the search based on, say, brand preference, most make purchasing decisions based on the equipment's attachments and functionality. For example, a manager in a region that experiences winter weather might tend to focus on snow blower and blade attachments and probably is in the market for an enclosed and heated cab to keep the operator warm and safe.
A rotary broom attachment is essential to make the job easier for crews that need to perform a great deal of debris cleanup. Sprayer attachments also are becoming more popular, and a range of utility vehicle attachments can expand the versatility of the equipment.
In addition to finding the model that offers all the options that operators might need, managers also need to buy from a reputable dealer near the facility because every minute of downtime is costly to operations.
While managers make a purchasing decision based in part on a vehicle's track record of reliability, they still need to ensure that in-house mechanics and operators have access to reliable parts and support, since the unit require regular service. And if it requires repairs, the closer the dealer is to the facility, the better.
Utility vehicles also offer managers and crews additional advantages. The cost savings in fuel, maintenance and insurance as compared to expensive work trucks makes utility vehicles viable alternatives. They feature plenty of horsepower, offering speed and power where operators need it. They can operate on gasoline, diesel, and propane, and some even feature electric motors. Beyond that, a utility vehicle can go places a commercial vehicle cannot, and their compactness makes them easier to haul and store.
Managers feeling overwhelmed by the specification process should not hesitate to talk to a local equipment dealer, who will gladly offer guidance in discussing and researching the way that vehicle features, functions and options can meet a landscape's unique demands.
Continue Reading:

Grounds Management

Specifying Utility Vehicles: Recipe for Success

Specifying Utility Vehicles: Understanding Needs and Options

Utility Vehicles Bring Versatility to Grounds Care
---
---
---
Related Topics:
Comments