Specifying Utility Vehicles: Recipe for Success
Department needs, equipment options and attachment considerations play central roles in making smart selections
OTHER PARTS OF THIS ARTICLE
Pt. 1: This Page
Pt. 2:
Specifying Utility Vehicles: Understanding Needs and Options
Pt. 3:
Utility Vehicles Bring Versatility to Grounds Care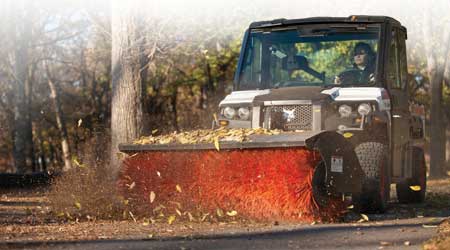 Bobcat Co.
Grounds departments in many institutional and commercial facilities more than ever rely on utility vehicles to keep landscapes healthy and attractive. As demand grows for vehicles that are more versatile, reliable and cost-effective, manufacturers have rolled out new vehicles, as well updated and enhanced existing models. The challenge for grounds managers in the market to replace an aging vehicle or to expand a department's fleet is sorting through the array of offerings to select the vehicle that most closely meets the needs of the department and the organization.
Focus on features and functions
Two overlooked elements in many specification processes for utility vehicles are size and maneuverability. Bigger is not always better, given the limitations vehicles face from landscape contours, features and spaces.
Utilities vehicles come in a variety of sizes, though most are smaller than a small pickup truck. As a result, vehicle operators can get into remote, tight or congested areas that pickup trucks often cannot reach. Some vehicles are even compact enough to fit in the back of a pickup truck to allow transport between work sites.
The passenger capacity of a utility vehicle also can vary. Some vehicles can carry up to six people, which is another advantage that utility vehicles have over utility tractors. If operators need to use the vehicle to transport materials and equipment and to perform work, greater flexibility means greater cost-effectiveness. For example, one utility vehicle features fold-down rear seats so operators can use the space for hauling if needed.
If vehicle operators need to transport a vehicle to a job site, managers need to ensure that it will fit on a trailer or in the bed of a pickup truck. They also need to double-check that workers can haul the vehicle and its attachments easily because most vehicles are not legal to drive on streets.
Another important feature for ensuring maximum efficiency when working in tight or congested areas is turning radius. Some utility vehicles have a radius of 10 feet or more.
One vehicle manufacturer adds a differential that is designed to unlock as the operator turns the vehicle. The rear tires rotate at varying speeds, reducing the likelihood of damaged turf. Additional features that make today's vehicles easier to maneuver include rack-and-pinion steering, power steering, improved shock absorbers, and independent front and rear suspension.
Before making a final specification decision, managers researching utility vehicle options also need to consider where workers need to drive a utility vehicle. Vehicles offer two-wheel, four-wheel, and six-wheel drive. If workers regularly operate on rough, muddy or steep terrain, a four- or six-wheel-drive unit might be the most practical solution.
Some utility vehicles offer push-button, four-wheel drive, automatic four-wheel drive and all-wheel drive for even greater flexibility. If operators need to operate the vehicle on rough or uneven terrain, managers also need to closely consider a vehicle's ground clearance. Some models offer ground clearance up to 15 inches.
Continue Reading:

Grounds Management

Specifying Utility Vehicles: Recipe for Success

Specifying Utility Vehicles: Understanding Needs and Options

Utility Vehicles Bring Versatility to Grounds Care
---
---
---
Related Topics:
Comments