Mower Specification: Understanding Equipment Options
Smart specification requires attention to equipment options, operator needs and the bottom line
OTHER PARTS OF THIS ARTICLE
Pt. 1:
Making the Most of Mowers
Pt. 2:
Mower Specification: Cost Considerations
Pt. 3: This Page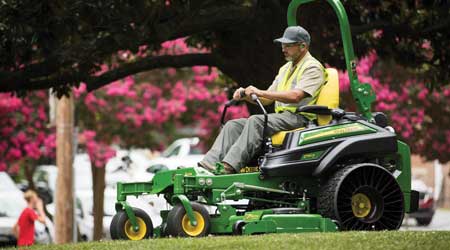 A mower is only useful if it is running properly. Technicians are responsible for keeping mowers operational throughout their lives and are essential to the success of the mower fleet. As a result, technicians view mower purchases differently than most managers and top executives.
A mower's construction quality is critical to its longevity, so technicians need to inspect it before the purchase decision occurs. Make sure to inspect the mower deck and the height-adjustment mechanism. Both stamped and welded decks can be high quality, but it is more important to look at the thickness or gauge of the metal than the type. Regardless of training, operators will drive mowers into obstacles, and bent blades will hit the side of the deck. A quality deck should be able to absorb these blows and not warp or tear. Inspect the height-adjustment mechanism to see if wear can impact the final height of the cut. For operations that involve multiple mowers, each machine must be able to stay consistent throughout its lifetime.
The simplicity of a mower is also important to equipment technicians. Less complex machines are easier to inspect and repair and require fewer parts. Managers need to consider the technical abilities of the people who will work on the equipment. If a machine is more complex than a mechanic can work on, repairs will have to be outsourced to a dealer.
One remedy for managers is to talk to the dealer about training for operators and mechanics. Just because diesel mowers are more complex does not mean managers should stay away from them. It means that managers should be prepared for the repairs the equipment will require.
One critical point in determining the brand and style of mower purchased is the relationship with the dealer and the availability of parts. Not all dealerships are created equal. They vary by brand and location. Dealerships are central players when it comes to ordering parts, getting repairs and keeping mowers cutting grass instead of sitting in the shop.
Before making a decision on a mower purchase, managers need to ask a dealer hard questions about the volume of parts in stock and the backlog of repairs in its shop. While dealers likely will promote their brands, managers need honest answers about which mowers tend to have problems and what those problems are. Managers also can ask local contractors for reviews about a particular dealer and its parts availability and service time.
Managers with mechanics on staff should involve them in the mower purchasing decision. Mechanics are trained to look for potential problems that others might not see. Unless a manager has previously worked as an equipment technician, this key insight might be missed. Mechanics will provide the labor to keep mowers running, and, as a result, they have a vested interest in helping managers select the most appropriate machine for the operation.
Managers' considerations
Mowers are critical in order for managers to complete their jobs effectively. The two main needs for a manager are to complete a cut cycle with the staff available and to provide the highest-quality cut possible. Achieving this balance can be difficult, and managers might have to make some sacrifices.
Larger decks will enable smaller crews to mow more acres per hour, but they might sacrifice cut quality if the deck is too wide. Smaller decks typically provide a higher-quality cut and allow for more maneuverability, but their use means larger staffs. Charts can help managers determine the number of acres a machine can mow in an hour. They can help managers determine the actual speed at which the mowers will be used, and managers then can apply a proper efficiency factor. Do not assume a mower will be more than 80 percent efficient with any size deck.
New zero- turn mowers have increased in size over the past couple of years and are available in models up to 96 inches. These larger deck mowers can enable operators to mow a large area very quickly and can provide an alternative to increased staffing levels. Managers need to be sure to include labor costs in their total cost of operation to make the smartest financial decision for the department.
Purchasing a new mower or fleet is a significant decision for managers, and they need to consider many different factors and perspectives. Issues such as safety, dependability and dealer service are important to all of stakeholders and are more important than the brand or color of the machine.
A quality mower can provide years of service with a low total cost of ownership. Managers should consider environmentally sustainable mowers where appropriate and work with a dealer for demos to determine the best mower for the given operation.
Brandon Haley, CGM, is a grounds project manager for SSC–Services for Education a university and K-12 facilities services provider. He is a Certified Grounds Manager (CGM) through the Professional Grounds Management Society with 22 years of experience in the green industry. George Bernardon, vice president of grounds for SSC, and Ricky Scher, turf manager for SSC at Texas A&M College Station, contributed to this article.
Continue Reading:

Grounds Management

Making the Most of Mowers

Mower Specification: Cost Considerations

Mower Specification: Understanding Equipment Options
---
---
---
Related Topics:
Comments