Making the Most of Mowers
Smart specification requires attention to equipment options, operator needs and the bottom line
OTHER PARTS OF THIS ARTICLE
Pt. 1: This Page
Pt. 2:
Mower Specification: Cost Considerations
Pt. 3:
Mower Specification: Understanding Equipment Options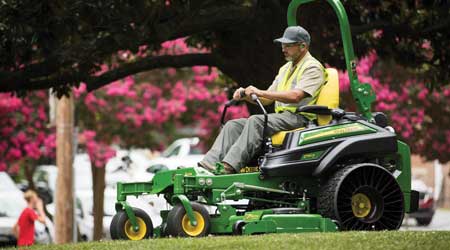 Choosing the most appropriate mowers for grounds management departments is one of the most important decisions that a grounds manager must make. Operators rely on these big-ticket machines every day to perform tasks that will help showcase the property. One bad cut can ruin a team's hard work.
Specifying the most effective machine for a particular operation will be unique to each department's situation, so to make smart decisions, managers need to understand equipment options, technician needs and financial considerations.
Knowing the marketplace
Mower advances and technology have exploded over the past few years, and managers are likely to find many options that were not available the last time they purchased a mower. The first options to consider are the style and size of the mower. A push or walk-behind mower might be appropriate for small properties, while crews maintaining larger areas might benefit more from stand-on and zero-turn mowers. Each style has its positives, and an onsite demo will help to determine which is most appropriate for a particular property and crew.
Managers then can move on to researching engine and fuel type. A mower's horsepower used to be the main deciding factor between mowers, managers now have to select from among carbureted, electronic fuel injection (EFI), propane and efficient diesel engines.
Managers also might take an environmentally sustainable approach and choose electric mowers in all styles. Manufacturers can provide mowers at different price points and quality levels, creating opportunities to make smart decisions for a range of organizations.
To make an informed decision, managers need to consider the needs mowers will address for the organization and the perspectives of employees in different roles.
Facility executives demand that a mower provides long-term value for the organization by reliably and efficiently providing results. Department managers must be able to finish the job their departments are responsible for, and equipment technicians must be able to keep machines operating reliably, efficiently and safely.
No one perspective by itself can lead to the most appropriate equipment choice. To make a well-informed decision, managers need to take a closer look at each of these roles.
Continue Reading:

Grounds Management

Making the Most of Mowers

Mower Specification: Cost Considerations

Mower Specification: Understanding Equipment Options
---
---
---
Related Topics:
Comments