You Might Like
On FacilitiesNet
Mower Specification: Cost Considerations
Smart specification requires attention to equipment options, operator needs and the bottom line
OTHER PARTS OF THIS ARTICLE
Pt. 1:
Making the Most of Mowers
Pt. 2: This Page
Pt. 3:
Mower Specification: Understanding Equipment Options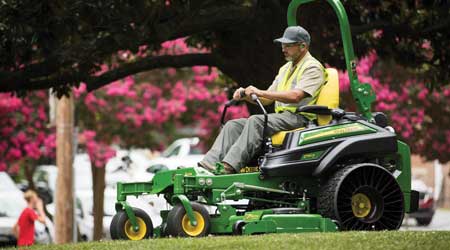 While the cost of a mower obviously is important, other factors matter more to upper management. Safety is always the first and last consideration of a mower purchase, including not only the safety of the operator but that of bystanders and the property being maintained. Consider the safety considerations related to mulching mowers vs. side-discharge mowers. Even though mulching might not be a high priority, the closed-deck designs of mulching mowers offer a degree of safety for nearby pedestrians, buildings and vehicles. Some manufacturers even offer decks that can both mulch and discharge based on the operator's need.
Managers also must consider mower dependability. Facility executives will hold managers accountable for landscapes and turf areas. If a mower is not reliable or the manufacturer's service after the sale is not consistent, equipment operators will not be able to complete their tasks. Managers need to ensure they have strong communication with mower dealers and manufacturers to provide a partnership for success.
While managers often focus on the initial cost of a mower, facility executives care more about the total cost of ownership. Since organizations typically capitalize mower purchases, they can amortize the cost over the mower's lifetimes. If the piece of equipment requires less maintenance or fuel during this lifetime, the annual budget impact might be lower even though the initial cost was higher. This is especially true for diesel and electric mowers.
Managers also can have environmental impacts that are hard to price but are critical to corporate goals and values. Reducing carbon footprints has become a popular goal, and while high-efficiency mowers might cost more, they provide benefits to the grounds department and the organization through their sustainability. For companies or departments that have made a public goal to reduce emissions or the use of fossil fuels, following through with the purchase of equipment that fulfills these goals can be a worthwhile investment.
Continue Reading:

Grounds Management

Making the Most of Mowers

Mower Specification: Cost Considerations

Mower Specification: Understanding Equipment Options
---
---
---
Related Topics:
Comments