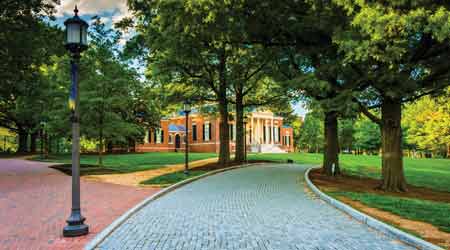 Environmentally Friendly Practices and Their Impact on Landscapes
Focusing on equipment performance, water efficiency and chemical use can benefit operations and the environment
Grounds managers are becoming environmentalists. As institutional and commercial facilities continue to feel the impact of environmentally friendly practices, managers and their staffs are finding it necessary to take a closer look at each area of responsibility with sustainability as a focal point.

Obviously, recycling paper, plastic, glass and metal can have an impact on the environment, But it's only the start. Grounds departments also can recycle plant and tree debris into organic mulch and other products. A comprehensive recycling program can reduce an organization's carbon footprint, and it can result in less waste in landfills.

By revisiting practices, equipment, chemicals and related materials, managers and their staffs can enhance the sustainability of department operations and facilities.

For example, utility vehicles, mowers and handheld power tools — including saws, trimmers and leaf blowers — produce noise pollution and dangerous emissions. Unnecessary water consumption, as well as the application of chemical fertilizers, and weed, pest and disease control products can harm the environment. For regions that experience winter weather, the use of toxic snow and ice melt products, along with emissions from plows and snow blowers, can have harmful effects.

What steps can managers and their staffs take to incorporate more effective sustainability practices while successfully managing facility landscapes?

Eye on equipment

Grounds managers in the market for new equipment for their staffs have a host of new considerations due to manufacturers who have responded to increased sustainability needs among facilities.

Battery technology advances in recent years have made battery-using grounds products — including handheld trimmers, leaf blowers, edgers and chainsaws — environmentally friendly options that offer several advantages over gasoline-powered equipment.. Among the advances in batteries and equipment:


Batteries themselves are more powerful, offering better amp ratings and holding higher volts.
Batteries are becoming more compact while lasting longer.
Battery-operated equipment is much quieter due to substantially lower levels of noise pollution.
Battery-powered equipment does not produce emissions.
Batteries eliminate the need to handle and store fuel, In addition, technicians no longer have to worry about dangerous spills and fumes or deal with the need to mix fuel given the ever-present risk of serious engine damage caused by inaccurate measurements.
Batteries mean fewer repairs and maintenance on electric motors compared to carbureted engines that burn fossil fuels.
Manufacturing advances have curtailed the impact of grounds equipment on air and noise pollution and energy use. Whether pushing or blowing snow, mowing, using a trimmer, or blowing leaves, landscaping equipment has historically been a major energy hog and a major contributor of dangerous emissions and noise pollution. Fortunately for managers, manufacturers continue to make strides in producing more efficient equipment.

Large vehicles in particular have become more environmentally friendly. As science continues to uncover the extreme depth of the damage pollution is doing to the environment, manufacturers have responded by redesigning mowers, utility vehicles, and snow blowers. The improvements address air and noise pollution without sacrificing value and performance.

New-generation products offer improved fuel economy and less demanding servicing requirements, resulting in lower emissions and operating costs, and they feature more and better engine options.

With improved battery technology and recent innovations in electric engines, they are becoming viable options for managers and their crews. Gasoline and diesel engines have become noticeably more efficient, reducing fuel use and lowering emissions, and both fossil fuel and electric motors are quieter than ever, which minimizes noise pollution and protects the hearing of operators.
Continue Reading:

Grounds Management

Environmentally Friendly Practices and Their Impact on Landscapes

Landscapes and Integrated Pest Management

Getting The Most Out of Irrigation Systems
---
---
---
Related Topics: