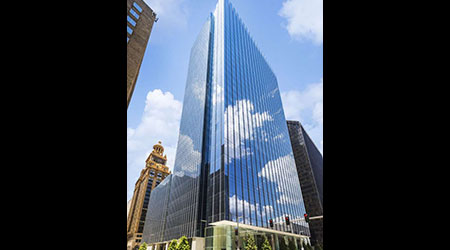 Office Tower in Houston Earns Highest Fitwel Certification
The key to health and wellness certifications like Fitwel and WELL gaining momentum and being adopted on a large scale is showcase projects that illustrate that these certifications are possible, cost-effective, and produce results. In total, buildings that show these certifications aren't just for tiny boutique buildings are hugely beneficial to helping these certifications gain market traction.
That is starting to happen. The 35-story Bank of America office tower in Houston, a 775,00-square-foot, LEED Platinum facility, recently earned the highest rating — 3 stars — with Fitwel, according to the Houston Chronicle. The building is the second largest to receive the 3-star designation, after the Bloomberg Headquarters building in New York City, which earned 3 stars in 2018.
Many of the features of the Bank of America building that helped it earn its LEED Platinum certification also contributed to its Fitwel certification, showing how green building and health and wellness are complementary. Such features include high marks for walkability and access to public transportation, access to daylighting and views for occupants, bike storage and shower facilities to encourage walking or biking to work, and focus on enhanced indoor air quality. The building also earned high marks from Fitwel for incorporating stairs in the building's design in such a way so as to encourage occupants to use them more frequently and giving occupants access to fitness centers.
This post was submitted by Greg Zimmerman, executive editor, Building Operating Management and FacilitiesNet.com. Read his cover story about Chris Walinski and his mission to make open offices flexible and productive.
---