Facility Manager Cost Saving/Best Practice Quick Reads RSS Feed
Parking Garage Barriers Fail to Prevent Six-Story Plunge
February 27, 2020 - Contact FacilitiesNet Editorial Staff »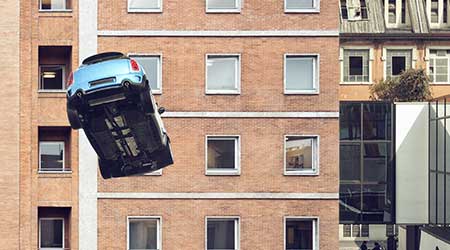 A man survived accidentally driving his Jeep off the sixth floor of a parking structure in Santa Monica on Sunday, Feb. 23. Two passengers were able to leap from the car before it plunged off the parking deck, according to the Los Angeles Times. Cars flying off of parking structures seems like something that only happens in movies, but it's actually not as uncommon as one might hope. And the parking structures themselves may be partly to blame.
In June 2018, a car broke through the safety cables at a different Santa Monica parking structure. The city is currently in the process of replacing the 50-year-old safety rails at several of their parking structures, as they no longer comply with code, according to the Santa Monica Daily Press. Last year, the Indy Star reported finding at least 46 incidents of cars falling out of parking garages over the last two decades, resulting in 22 deaths and almost 30 injuries. They also report that uniform requirements for parking garage barriers weren't put in place until 1990.
Even where garage barriers are installed to code, they may not be sufficient to stop prevent a car from going over the side. According to the 2012 International Building Code, vehicle barriers need to resist a concentrated load of 6,000 pounds, which includes an allowance for the live load of an "ordinary impact condition." In general, that's enough to stop a 5,000 pound vehicle travelling at 5 mph, according to Indy Star. However, some full size SUVs and trucks on the market easily top that weight, to say nothing of the various circumstances that would lead a vehicle to be travelling at a higher speed than 5 mph in a parking structure. In addition, in a February 2008 ICC public hearing, comments pertaining to vehicle barriers noted that changes in vehicle bumper heights, such as taller SUVs and trucks, affect how well the barrier can resist vehicle impact.
Beyond having to contend with changing vehicle makeup, parking garages themselves face a lot of wear and tear due to their exposure to the elements. This could lead to weakening of barrier systems at the periphery. Some jurisdictions have passed legislation requiring parking structures to be periodically assessed and repaired, according to an article in Building Operating Management. However, in many other jurisdictions, these inspections and repairs are left to the discretion of building owners and facility managers.
Naomi Millán is senior editor of Building Operating Management.
---
Comments