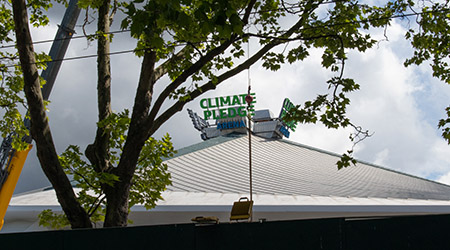 NHL's Seattle Kraken First Pro Sports Team to Play in Net-Zero Carbon Arena
The Seattle Kraken are an expansion team in the National Hockey League, but they are already scoring goals in the environmental world.
The hockey team claims that its home ice, the appropriately named Climate Pledge Arena, is the first net-zero carbon arena in the world, according to a USA Today article. Oak View Group owns the arena and says the Kraken home will follow the guidelines of the International Living Future Institute.
For carbon-neutral consideration, an arena must:
Eliminate fossil fuels
Have renewable energy resources
Obtain remainder of energy from other renewable sources
Provide detailed accounting of carbon emissions of the building's operations, and show evidence they are being offset.
The article describes some of the steps the team and arena group have taken to achieve net-zero status:
Ice will come from recycled rainwater
The ice-cleaning Zamboni will run on electricity
Lights, scoreboard, kitchen grills and fryers will be powered by renewable energy from solar farms
No single-used plastic items
Unused food will be donated to shelters and food banks
The Kraken are playing in a renovated arena that included a $50 million renovation that included tearing out gas lines to meet the zero-carbon qualification.
The roof collects rainwater and recycles it to be used for the ice sheet and for water for the Zamboni. The process is expected to save Seattle 50,000 gallons of water annually. Plans are also in the future for fans to donate recycled rainwater for the ice.
---