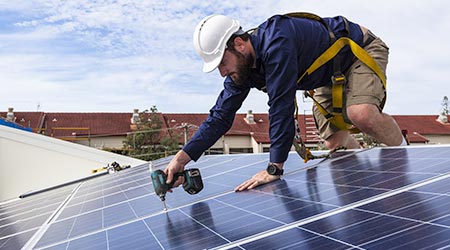 California Requires Solar Panels On New Homes
In a landmark piece of legislation, California will require all new homes to use solar power. The requirement, which takes effect in two years, adds to a growing list of examples of green leadership for the state with far and away the most solar capacity of any other state, providing 16 percent of the state's electricity. California has committed to generating 50 percent of its electricity from renewable sources by 2030.

According to cited estimates in the New York Times from the California Energy Commission, which approved the measure unanimously, the requirement will add $8,000-$12,000 to the cost of a house, adding approximately $40 per month to an average 30-year mortgage. But with solar installed, homeowners will save $80 per month on electricity.

Several cities in California – San Francisco, among them – already require solar on both commercial and residential facilities. So the new measure has led to some speculation that commercial buildings statewide will soon be required to use solar, as well.

Both commercial and residential solar installations in the US continue to grow rapidly as the costs continue to decline, even achieving grid parity in some locations. According to the Solar Energy Industry Association, solar installations have increased annually by an average of 59 percent in the last 10 years.

This Quick Read was submitted by Greg Zimmerman, executive editor, Building Operating Management. Read his cover story profiling Northwestern University's vice president of facilities management, John D'Angelo.
---