To Boldly Go Where No Educational Facility Has Gone Before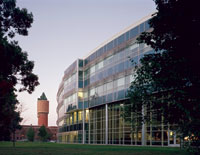 Achieving LEED for Existing Buildings and LEED for New Construction certifications are very different processes, says Jim Nicolow, principal with architecture firm Lord, Aeck and Sargent. "With LEED-NC, you're typically working with just the design team. But LEED-EB touches so many departments that you need an entire mission control of people to work together to achieve it."
July 8, 2009 - Green
Achieving LEED for Existing Buildings and LEED for New Construction certifications are very different processes, says Jim Nicolow, principal with architecture firm Lord, Aeck and Sargent. "With LEED-NC, you're typically working with just the design team. But LEED-EB touches so many departments that you need an entire mission control of people to work together to achieve it."
And a mission control center is exactly what the facilities department at Western Michigan University's (WMU) Health and Human Services building created — right down to the photos of the facilities team in Star Trek costumes. Mission control at WMU, as Nicolow, the LEED consultant on the project puts it, is a room where facilities staff and WMU students can monitor the building's energy and water use in real time. The tongue-in-cheek photo gallery simply adds to the camaraderie among facilities staff.
The 200,000-square-foot Health and Human Services building, built in 2005, earned a Gold certification with LEED-EB v.2.0. The process was partially funded by a $15,000 grant from the U.S. Department of Energy in the fall of 2007.
The grant was put to good use in evaluating the energy efficiency of the building's systems, a step central to the LEED-EB process. "LEED-EB places a significant focus on building operations," says Peter Strazdas, WMU associate vice president of facilities management. "This process took us two years of documentation, involving thousands of documents."
WMU established an energy use benchmark by looking at energy data from three to five comparable buildings with similar programs from the past three years, says Nicolow. The facilities staff was careful to find buildings that housed laboratories, since the Health and Human Services building houses a number of lab facilities for biofeedback and motion research.
To see if their building measured up, the facilities team in the Health and Human Services building started evaluating and documenting building performance (as part of the required LEED-EB retrocommissioning) in areas such as storm water management, site erosion, water efficiency, recycling and waste management, lighting controls, IAQ, and thermal comfort. The mission control center helped centralize the process.
Based on the data, WMU carried out a number of retrofits, including installing dual-flush toilets in the entire building, and implemented a green cleaning program that uses ionized water in lieu of chemical cleaners.
The university was so pleased with the results and energy savings that many of the sustainable features of the building are now being implemented campus-wide. "This project was great because every change that was made became a campus standard," says Nicolow. "It shows you how a single-building certification can affect an entire campus of buildings."

---
Comments