College's Condition Assessments Focus on Green Initiatives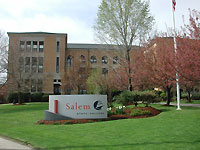 Many college presidents are taking steps to make campuses more sustainable by focusing on the environmental impact of existing building maintenance and operations, as well as new construction
April 27, 2009 - Software
Green building initiatives on college campuses are generating more interest every day. Many college presidents are taking steps to make campuses more sustainable by focusing on the environmental impact of existing building maintenance and operations, as well as new construction.
Some colleges and universities are creating an office of sustainability, and others have signed the American College & University Presidents' Climate Commitment (AUPCC), which pledges they will create a plan to achieve climate neutrality. Salem State College in Salem, Mass., is one of an increasing number of higher education institutions making such a commitment.
Salem State has focused on tracking sustainability in its existing buildings. The college recognized the importance of understanding the condition of buildings in its portfolio, prioritizing projects during capital planning and establishing defensible funding requests through facility condition assessments from software manufacturer VFA.
Stephen Keyes, director of campus development, and Thomas Osborne, manager of the sustainability office, combined their facility condition assessments with green initiatives to meet the AUPCC requirements.
Although the university was not setting aside funding for specific green initiatives, it was critical to be able to identify projects and costs that could improve sustainability.
"We have positioned ourselves to be first in line when the funding becomes available, and the best way to accomplish that was to know where we stand currently, what we want to undertake, and how much it will cost," Keyes says.
Working with its facilities group and VFA, Salem State contracted a green assessment team to identify potential green opportunities and conventional operations and maintenance needs simultaneously. This action allowed them to minimize the deployment costs and maximize the resulting data to meet their conventional capital funding and planning goals, as well as their sustainability goals.
By working on one portion of their existing building portfolio at a time, they have been able to minimize the upfront investment and maximize the effectiveness of the dollars spent with improved decision making.
Conducting the green building assessment in conjunction with the facilities condition reassessment allowed VFA to focus on low-cost, turnkey initiatives that deliver a short-term payback and improve the work environment. The collaboration also allowed VFA to identify long-term initiatives with more wide-ranging impact and extended payback.
The use of a performance scoring system allows the college to compare buildings and set benchmarks to monitor each building's sustainability progress in the following areas: optimizing energy performance; conserving water; enhancing indoor environmental quality; and reducing the impact of materials and operations on building sites and the environment.
Using the Leadership in Energy and Environmental Design for Existing Buildings: Operations & Maintenance rating system, VFA delivered recommendations for green actions and established a sustainability baseline for the campus.
When Salem State conducts future building assessments, facility managers will be able to apply the results the green assessment provided. When funding becomes available, managers will be prepared to implement projects to improve campus sustainability and meet AUPCC goals.
---
Comments