Photoluminescent Markings Hit The Right Note at Community Center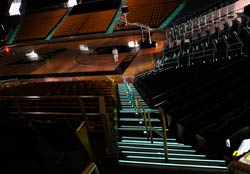 June 29, 2009 - Emergency Preparedness
The existing overhead lighting system at the Jones Arena in the Holmes Convocation Center had limited settings, resulting in either too much or too little light. Officials at the Appalachian State University campus in Boone, North Carolina discovered that it was difficult to stage events that required low lighting. In addition to the university's sports events, the 8,334-seat arena also hosts community and cultural events, graduation and convocation ceremonies, trade shows and concerts.
Instead of installing additional electrical lighting, a photoluminescent way-finding system was used. Photoluminescent stair nosings and aisle markers provide just the right amount of supplementary lighting, allowing the arena to drop its lighting but still provide a safe environment for its patrons.
Working equally well in light, dark and dim conditions, the stair nosings and aisle markers increase the efficiency of ushers and make it easier for patrons to go to concession stands or other facilities. The photoluminescent material is highly visible, but will not disrupt performers on the stage.
---
Comments