You Might Like
On FacilitiesNet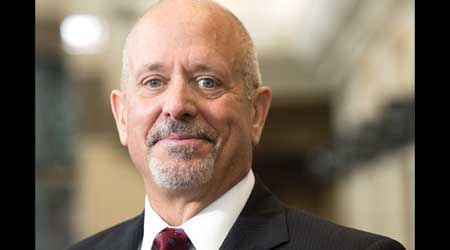 FM's Tenacity for Safety, Efficiency Brings Success
Bob Holesko has earned the nickname "Bear Trap Bob" due to his unique way of promoting an organization-wide priority for the security and safety of guests and staff.
Bob Holesko uses his sense of humor to boost awareness of safety, as well as energy and water conservation. Indeed, Holesko previously was known as "Bear Trap Bob." The reason? "Nothing gets past him," says Stephen Murphy, vice president of operations with Great Wolf. "He probes and asks lots of questions."
The nickname started when Holesko worked as chief engineer at the Buffalo Marriott in Buffalo, New York. During a safety seminar, the instructor placed a massive bear trap on a table. Nobody knew why until the instructor walked in, grabbed a broom handle, and triggered the trap. "It snaps, the broom handle shatters, we all jump, and the instructor told us to think of safety-related items around our hotels and hospitals as bear traps," Holesko says. For instance, a lightbulb out or torn carpet on a walkway could lead to a guest tripping and falling. Holesko took the image to heart, even developing bear trap safety awareness signs.
"He's high energy, enthusiastic, and not there just for the paycheck," Murphy says. "When he says something, people listen," motivated by his sincerity, experience, and willingness to ask questions to gather more information."
Holesko's career started with a four-year tour of duty in the United States Navy, as a boiler technician. He was stationed on the aircraft carrier USS John F. Kennedy CV-67, the last non-nuclear powered aircraft carrier in the fleet. Boilers were the size of two-story houses. "Every job since then has been easy," Holesko says.
Over the years, Holesko's growing passion for energy conservation prompted a shift in his nickname to "the Green Guy." After Marriott, Holesko went to HEI Hotels and Resorts as vice president of facilities. While there, he painted his office green and started wearing green sweaters and shirts to emphasize his "green" efforts to conserve water and energy. "I gained a whole green persona," he says.
The seemingly lighthearted manner has paid off in serious benefits. At Great Wolf, for instance, Holesko's efforts, along with those in his team, or "pack," have led to reductions in gas and electric consumption of between 6 and 10 percent at each lodge.
Great Wolf also recently picked up two Association of Energy Engineers regional awards. One, for Energy Project of the Year, recognized the installation of more than 86,000 LEDs at the lodges. In addition, Holesko's co-worker, Astha Ummat, earned the Young Energy Professional of the Year award.
Building on success
At HEI, Holesko installed programmable thermostats, upgraded the energy management systems, installed motion detectors on the vending machines, and placed temperature-control devices on the refrigeration equipment, among other steps.
An energy set-point program Holesko helped develop at HEI was later picked up by the Department of Energy's Better Building Challenge, he says. The concept is to adjust, monitor, and certify the set points for domestic hot and chilled water, for occupied and unoccupied spaces, and coolers and freezers, as well as for the variable frequency drives (VFDs) so these settings match each building's needs, while maximizing energy conservation. "You can trim a few hertz off every VFD with no impact on the operation, even while you're gaining tremendous savings," Holesko says. "It was money in the bank and an effective way to reduce the carbon footprint."
During his 10-year stint at HEI, Holesko's efforts cut more $25 million from the annual energy bill and helped him earn awards.
Top management took notice. When HEI was considering new locations to purchase, leadership began including Holesko in its due diligence team. He'd conduct a mini-energy audit; by this point he'd earned the certified energy manager (CEM) and certified energy auditor (CEA) designations from the Association of Energy Engineers.
Holesko and his team would build the energy-saving retrofit price into the deal. That meant they'd usually have several hundred thousand dollars to use on changes, such as more efficient lighting and smarter thermostats, once the purchase went through. "We were immediately reducing operating costs, which improves the asset value."
Continue Reading:

Cover Story: Bob Holesko profile

Serious Fun: How a Hotel FM Makes Saving Energy Enjoyable

FM's Tenacity for Safety, Efficiency Brings Success

How to Get Staff Buy-In for Energy Efficiency

Best Practices for Developing Best Practices
---
---
---
Related Topics: