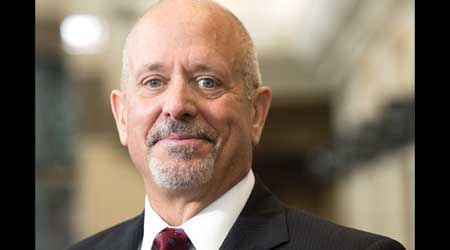 Best Practices for Developing Best Practices
Bob Holesko has learned from the top organizations in his field, and developed protocols, standards, and best practices to mirror those of the most successful FMs.
When Centerbridge Partners purchased Great Wolf Resorts four years ago, in-house specifications and standards for products were not clearly defined. Every Great Wolf lodge's general manager had the flexibility to determine what to buy and there was limited consistency in making purchases. "Having ten lodges and ten general managers allowed inconsistencies among lodges," says Bob Holesko, corporate director of engineering for Great Wolf Resorts.
All that has changed, however, in the last two to three years. With executives who have worked for the likes of Disney, Marriott, and Starwood, the Great Wolf Resorts introduced protocols and best practices that have all general managers being consistent in how they select products.
"We don't look like any of those three, but we have the philosophy of setting standards coming from the big three," Holesko said. "We've taken the best practices from those places and used them to develop Great Wolf's standards. You can't argue with that trio and their success."
As Holesko describes it, in a few short years Great Wolf Resorts has gone from being run like a family-owned business to one that is leveraging the buying power that comes with having multiple resorts and deeply experienced executives. Instead of going to the local big box retailer to purchase patio furniture or appliances or wall sconces, general managers purchase products that meet Great Wolf's standards with the click of a mouse knowing that what they are buying is consistent with what another general manager at another Great Wolf lodge is also purchasing. The approach has been used in the four lodges that have been completely refurbished and in three new lodges.
"Some people say it's cookie cutter but it's not when it comes to the Great Wolf brand and image," Holesko says. "People have expectations of what the lodges will look like and now that's all consistent. In the next three to five years, all our old lodging will have new specs."
Centerbridge facility managers walked through the Great Wolf lodges, asking questions about everything from what paints were being used to what carpet and tile were on the floor to what floor care products were specified. Parking lots didn't escape scrutiny; virtually all the parking lots differed in their lighting. Now they have all have the same LED fixtures and foot candles that are energy efficient, Holesko says. The light bulbs inside the lodges are all the same, too. "People can't buy anything from outside the specs or a red flag pops up," Holesko says. "It makes everyone's job easier because everyone knows the expectations."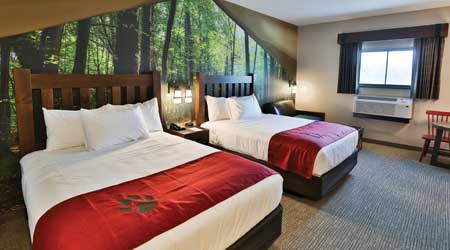 (In a hotel setting, regular meetings, daily and weekly, are key to effectively managing renovation projects — for example, by ensuring that the appropriate guest rooms are blocked if there is construction on that floor.)
Sarah Smallwood, design director for Great Wolf and former design director at Marriott, worked on the specifications for the lodges' corridor carpet. With children and carts populating the carpet every day, it had to be durable, easy to install, and flexible enough to make tight turns, Holesko says. The corridor carpet standards also had to tie into standards for the stairs, main lobby, elevator lobby, and guest rooms.
"She took her Marriott experience and talked with manufacturers and after trial and error, Sarah came up with corridor carpet specifications," Holesko says. "At some lodges, it was a tough transition but with her background, she knows what she's doing."
Continue Reading:

Cover Story: Bob Holesko profile

Serious Fun: How a Hotel FM Makes Saving Energy Enjoyable

FM's Tenacity for Safety, Efficiency Brings Success

How to Get Staff Buy-In for Energy Efficiency

Best Practices for Developing Best Practices
---
---
---
Related Topics: