You Might Like
On FacilitiesNet
Facility Manager Cost Saving/Best Practice Quick Reads RSS Feed
DeWalt Boosts Battery Power with Lithium-Ion System
August 4, 2016 - Contact FacilitiesNet Editorial Staff »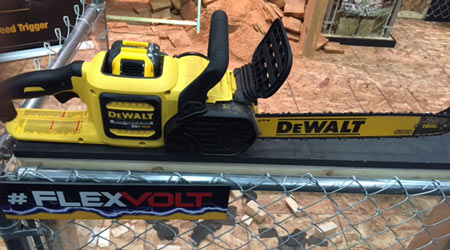 DeWalt unveiled hundreds of new tools and accessories during its 2016 Media Day in Baltimore in June.

Facility Maintenance Decisions was among the trade publications invited to attend the annual event, giving editors an opportunity to sample products and ask questions about the new products and industry trends.

With our boots on the ground and pens, paper and iPads in tow, we share some things we learned from the commercial power tool company's product and marketing managers during the event.

FlexVolt debuts. The company unveiled the FlexVolt system, touted as the world's first battery that automatically changes voltage when the user changes tools. Two batteries, a 6.0 ampere hour (Ah) battery available in the fall of this year, and a 9.0 Ah battery available in early 2017, will power the lineup of brushless 60 volt (V) max and 120V MAX FlexVolt tools.

The batteries will extend the run time of DeWalt's 20V MAX tools, and also power five new 60V Max and two 120V Max tools. The 60V tools include a 7¼-inch circular saw, 4½-6-inch grinder, reciprocating saw, VSR stud and joist drill, and an 8¼-inch table saw. Two miter saws make up the 120V tool offerings.

"The impact of the FlexVolt system will be felt throughout the construction industry on each and every jobsite," says Frank Mannarino, president of Professional Products Group. "This new platform packs the power required for heavy-duty applications, makes it easy to exchange corded tools for cordless, and ensures that our existing 20V MAX users get the benefit of added runtime without making the 20V MAX system obsolete."

Eye on dust. With the Occupational Safety and Health Administration (OSHA) establishing rules for the engineering of power tools to reduce the impact of silica dust, DeWalt's product managers have placed emphasis on developing rotary drills and grinders with the rules in mind. The OSHA standards take effect June 23, 2017.

Users inhaling silica dust rank near the top of the list of concerns for power tools users along with tool kickback when making cuts, and wrist injuries sustained from the torque of a drill. Sean Kelly, a director of marketing for DeWalt, says the company started addressing the silica issue as far back as 2007.

"That's the time frame when you really started to see things change on the job site," he says. "You started to see safety managers on site starting to require dust mitigation and control features to help mitigate wrist injuries and kickback injuries, and starting to do more safety training.

"Users started coming to us and asking for those things. In the beginning, it was the companies doing these things, but then the users started asking because they want to go home safe. The communication started changing a bit on both parties."

Outdoor power equipment. DeWalt introduced a line of outdoor power equipment tools compatible with its FlexVolt system, featuring a chainsaw, blowers and trimmers. The company is finding success with its outdoor equipment in the healthcare and higher education markets.

"We've had placements with 20 different universities across the country, a lot of hospitals, and the Smithsonian, places where people are worried about noise and emissions," says Christine Potter, VP of Marketing for Outdoor products. "With our backpack blower, it's only 63 decibels. We're starting to see around the country people putting in bans at the municipality level where you can't allow blowers at certain times of the day over certain decibel levels. Our products are actually below those limits."

Potter says the battery-powered products (she recommends the 40-volt batteries for institutional and commercial landscape teams) are a good match for facilities.

"Think about facilities maintenance — you have a lot of time when you worry about emission and noise," she says. "Going to batteries is a huge benefit in those cases. In the outdoors space, it's all about runtime. As the battery cells continue to improve, we'll continue to upgrade the cells to go after additional landscaping opportunities, continue to think about blowers, and whatever the landscaper has and how to make a cordless solution."

This quick read was submitted by Dave Lubach, associate editor for Facility Maintenance Decisions. Reach him at dave.lubach@tradepress.com.
---
Comments