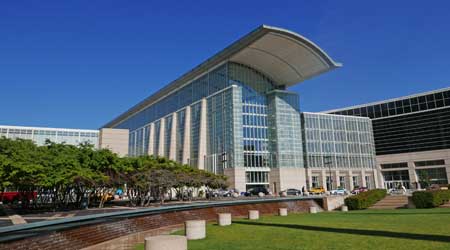 McCormick Place to Be Converted to 3,000-Bed Coronavirus Hospital
Big challenges call for big solutions. And it doesn't get much bigger than this: McCormick Place — Chicago's massive convention center located near the city's lakefront — will be converted into a temporary 3,000-bed field hospital to handle coronavirus patients.
The Army Corps of Engineers is heading up the project, which is expected to be completed in full, amazingly, by April 24th, according to the Chicago Tribune. Later this week, 500 beds are expected to be ready. Having witnessed the shortage of hospital beds in hard-hit areas like New York City and Seattle, Chicago is planning for the worst, says Illinois governor J.B. Pritzker.
McCormick Place is the largest convention center in the U.S., and all three halls of the 2.7 million square feet of exhibit hall space will be converted and used for different severity of coronavirus patients. Hall C will treat the most severe cases, with a capacity of about 500. Hall A would house about 1,800, and Hall B would take the most difficult cases, including all "self-contained" units.
The cost for the transformation of convention center to field hospital is around $75 million according to the Army Corps of Engineers, though that figure also includes some other projects. Chicago has lost an estimated $747 million in convention business due to cancellations at McCormick Place because of the pandemic, according to the Chicago Tribune.
This post was submitted by Greg Zimmerman, executive editor, Building Operating Management and FacilitiesNet.com.
---