You Might Like
On FacilitiesNet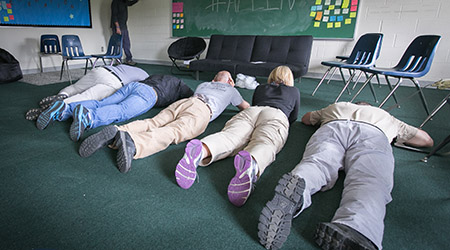 Did Active Shooter Drills Save Lives In Michigan School Shooting?
The shooting last month at Oxford High School in Michigan that left four dead and several more wounded may have been a lot worse had students not been properly trained on how to escape the situations, according to some of the students themselves, as quoted in a recent story in the New York Times.
The students had been trained in the program called ALICE, which stands for alert, lockdown, inform, counter, evacuate. The administrators of this type of training say it differs from the traditional active shooter drill, which ineffectively encourages students to stay sheltered in the same place. ALICE encourages more proactive approaches, say the program's administrator.
But are active shooter drills effective, writ large? It's a question that's been the subject of contentious debate. Before the pandemic, there were a spate of examples of active shooter drills going terribly wrong, and traumatizing students and building occupants.
For facility managers, working with school administrators to determine the type and frequency of active shooter can be challenging. Local law enforcement must also be included in any discussions, and law enforcement may have their own ideas about how best to conduct effective drills.
But experts say the one constant to perform an active shooter drill successfully is good communication among all parties: Building occupants, administrators, neighbors, and anyone who will be affected by the drill. Making sure everyone is on the same page — and most importantly, understands that a drill is being performed, not a real-life situation — is most critical.
Greg Zimmerman is editor, Building Operating Management magazine and FacilitiesNet.com.
---