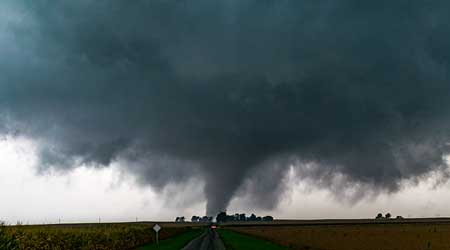 Deadly Nashville Tornado May Portend Active Season
A deadly EF-3 tornado moved through Nashville in the early morning hours of March 3, killing at least 22 people and injuring hundreds more, marking what could be the start of an early and active tornado season due to unseasonal warm weather.
AccuWeather is predicting more than double the typical number of 75 tornadoes in March, according to USA Today. Tornado activity usually peaks in April and May in the United States. About 1,200 tornadoes hit the U.S. every year, according to the National Severe Storms Laboratory.
Tuesday's tornado in Nashville followed a similar path to one in March 1933 and April 1998. All three tornado tracks nearly converge in the eastern side of the city, in Five Points, according to the Tennessean. At least 45 buildings collapsed in Nashville. The extensive damage included Nashville's reliever airport, Tune Airport, which suffered extensive damage to hangars and aircraft, according to the AOPA Foundation.
Most tornadoes are over in 10 minutes, and they are currently difficult to predict with accuracy and significant lead time. NASA and NOAA (National Oceanic and Atmospheric Administration) are working on a new tool that could help pinpoint tornadoes before they touch down. Using data from Geostationary Operational Environmental Satellite Program (GOES) researchers are developing models that could improve prediction times for tornadoes.
In the meantime, facility managers should take steps now to make sure their facility is as prepared as possible for a tornado strike. FEMA has a tornado readiness guide which walks through steps such as conducting a hazard self-assessment and developing a response plan.
Naomi Millán is senior editor of Building Operating Management.
---