Power Monitoring: Protecting a Hospital's Lifeline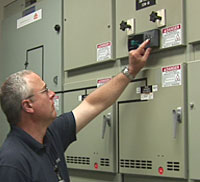 Critical power can be a matter of life or death in health care facilities. To guarantee a reliable flow of electrical power, a hospital's critical power supply and all its components must function properly and automatically, even under harsh conditions
April 8, 2009 - Power & Communication
Critical power can be a matter of life or death in health care facilities. To guarantee a reliable flow of electrical power, a hospital's critical power supply and all its components must function properly and automatically, even under harsh conditions.
St. John's Hospital in Springfield, Ill., is no exception. The 730-bed hospital spans more than 1.7 million square feet. A few years ago, maintenance personnel realized they needed to update the hospital's electrical infrastructure, due to issues with a substation transformer. The electrical shop's general foreman contacted the engineering services group at Schneider Electric to help conduct a study and determine the cause of the problem.
The study identified two causes of the transformer issues: harmonics and a slight load imbalance. The study also confirmed the need for new power-management technology to integrate all the facility's critical-power components into one networked system. This facility upgrade would allow hospital engineers to monitor utility power, emergency power and power quality at any time from anywhere.
The new technology also would integrate with existing emergency power supply system (EPSS) components to form a more robust system. The EPSS provides the critical backup power a hospital needs during a power disruption or outage.
The plan called for implementing the new power-monitoring and control system in phases, primarily due to budget considerations. As part of the plan, technicians replaced several generators and automatic transfer switches, which required integration with the new circuit monitors and power meters that are part of the power-monitoring system.
Schneider Electric's engineering services group worked directly with the hospital to customize a Square D® PowerLogic® system. The customization began with the installation of circuit monitors and power meters at key locations throughout the hospital's facilities.
The monitoring hardware the hospital installed included nine PowerLogic CM4000 circuit monitors, seven CM3350s, four CM2350s and one PM850 power meter. The key to tying that hardware together was Schneider Electric's PowerLogic system manager software with the integrated EPSS testing and reporting module.
The EPSS's testing/reporting module automates the required documentation the hospital needs to provide to outside agencies, such as The Joint Commission, each month. The hospital must provide documentation showing its EPSS is functioning properly.
The PowerLogic EPSS test module provides an automated test report documented to Joint Commission standards. Automating this process eliminates errors from manual readings, increases confidence workers have conducted the tests correctly, and reduces required manpower and documentation time.
With the first phase of the monitoring and EPSS project complete, the next step is to expand monitoring and control capabilities to the remaining generators and transfer switches in the system to form a more complete EPSS.
---
Comments