You Might Like
On FacilitiesNet
Door Hardware Strategies for Access Control
Part two of a three-part article on access control
OTHER PARTS OF THIS ARTICLE
Pt. 1:
Access Control Key to Facility Safety and Security
Pt. 2: This Page
Pt. 3:
Access Control: The Role of Card Readers
Pt. 4:
Sidebar: Access Control and Maintenance Issues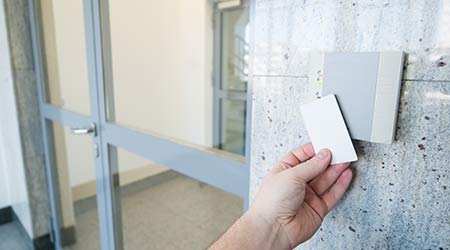 Door closers automatically return a door to a closed and latched position after a user opens it manually. These two-speed devices use rapid-closing action to slow the door about 5-6 inches from the closed position as the door approaches the stop. They operate either pneumatically, using air, or hydraulically, using oil.
Technicians should check the closing action at least twice a year and more often if traffic is heavy. Due to ongoing use, a door often begins to bang against the stop or fails to close completely. Technicians can correct this problem by adjusting the screw on the cylinder, which enables the door to close gently against the stop without banging or leaving a gap.
Because technicians probably will not have to perform this task often, they will be only vaguely familiar with the operation of each different type of closer or lock, even if the same person does it every year. To ensure efficient maintenance of closers, managers can file these components' installation and adjusting instructions at the time of installation, then give them to the technician who will perform the task. This step frees technicians at the job site from having to figure out the workings of a given mechanism.
Component considerations
In addition to such key components as closers and hinges, managers and technicians can ensure the integrity of access control systems by also paying attention to the condition and performance of locks and exit devices.
Mortise locks have a latch bolt and a dead bolt in a rectangular housing, requiring a similar shaped opening mortised into the door edge for installation. Technicians should install mortise locks from the door edge and can remove them only from that direction for repair or replacement. Because these locks are secure and require little maintenance, managers often specify them for exterior or entry doors, where security is important.
Technicians install bored locks through a hole sawed in the door's face. A smaller hole in the edge of the door accommodates the latch bolt. They can use a template that comes with the instructions for lock assembly to locate the hole more easily.
Managers can specify electromechanical versions of mortise and bored locks for applications requiring locks to be closed or opened from a central point. An occupant or visitor can open this type of lock with a key or, in case of an emergency, operate it electronically from a remote location, such as a security guard station.
Exit devices connect to the door's interior and the latch that opens the door when a user applies pressure to the latch, allowing hands-free door operation. Managers tend to specify this type of hardware for doors on emergency exits and in heavy-traffic areas and public gathering places. The latch can be in the doorjamb or linked by a vertical bar to the top of the door frame.
Continue Reading:

Access Control

Access Control Key to Facility Safety and Security

Door Hardware Strategies for Access Control

Access Control: The Role of Card Readers

Sidebar: Access Control and Maintenance Issues
---
---
---
Related Topics:
Comments