Colocation, Managed Hosting Are Alternatives To Owning A Data Center
Colocation and managed hosting facilities are among the solutions on the market for businesses that need a data center, but do not necessarily want to own it. These solutions are also a good option for business in the process of IT transitions or organizations that have a shorter time frame for their IT needs.
Colocation data centers can be found in virtually every metropolitan area in the United States. Many of the colocation data centers are owned by REITs that are in the data center business for the long haul. Colocation data centers tend to be built with a very robust structural system to account for loads that will become increasingly dense, as they have been for the past 20 years. MEP/fire protection systems are designed with a lot of flexibility to account for the wide range in tenant requirements. But just as important, they are designed and built with the future in mind. The success of a REIT is based on continuous growth and a return to investors. As a result, their data centers have to be reliable, cost effective to operate, and able to last 30-plus years. That's not an easy task. It must be possible for MEP/fire protection systems to be upgraded or replaced over time in order to meet the life span of this type of data center.
Managed service data centers are also available in most major metropolitan areas across the country. Unlike a colocation data center where the tenant is renting space and managing their own IT equipment, a managed services data center not only provides the space for the tenants' IT equipment, but also provides the technical support to manage IT operations. Like colocation facilities, managed service facilities are robust structurally and have scalable MEP/fire protection systems to meet the long-term requirements.
Operational Needs
Knowing how long you'll be in the data center is also important to help understand the long-term investments that will be required to operating at the appropriate level. Remember, once the data center is turned on, most if not all of the equipment is running 8,760 hours per year — roughly three times the hourly operation of equipment in an office building. Historically, even if well-maintained, major pieces of equipment such as chillers, cooling towers, air handling equipment, UPS, and generators have a lifespan of about 15 years. If your long-range plan is to have a data center for more than 15 years, capital planning must include estimated cost for equipment replacement.
Of course, the building shell is a different story. With proper planning and selection of structural, façade, and roofing systems, the building can easily be designed for a much longer life cycle of 25 to 50 years.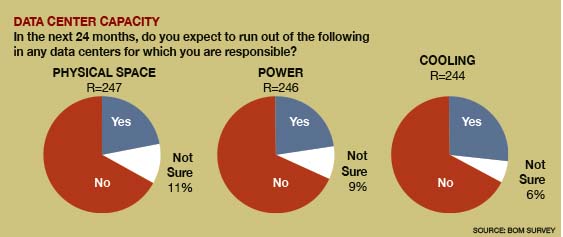 Q&A: Planning the New Data Center
During the programming of a new data center, a comprehensive set of solutions are developed that address sometimes contradictory issues. Here are some key questions that need to be addressed:
How much IT load do you need to plan for?
What's the level of reliability?
How scalable does the solution need to be over time?
What types of support spaces do you need?
Are there any security considerations?
What are the mechanical, electrical, plumbing (MEP), and fire protection systems options?
Can you reduce operating costs and maintain reliability?
If you do a scalable solution, will the equipment you need in the future be available?
Does the solution set you selected fit into your long-term plans?
Is the type and quality of the MEP/fire protection systems designed to support the IT load?
What is "proper maintenance" of MEP/fire protection systems, and how does it affect the life and usefulness of the equipment?
Is the data center to be stick built or modular?
What is the skill set of the operations and maintenance staff to properly run and test the systems?
— R. Stephen Spinazzola
Continue Reading:

Plan For Entire Life Cycle When Developing A New Data Center

Colocation, Managed Hosting Are Alternatives To Owning A Data Center

Focus On Data Center Life Cycle Can Help Shape Infrastructure Planning, Maintenance
---
---
---
Related Topics: