Facility Manager Cost Saving/Best Practice Quick Reads RSS Feed
COVID-19 Adds Uncertainty to the Future of Facilities
November 3, 2020 - Contact FacilitiesNet Editorial Staff »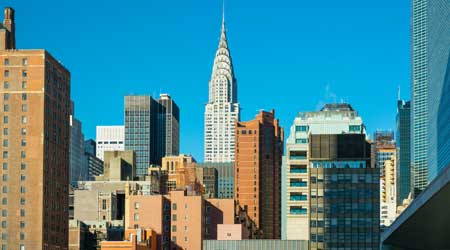 Facility managers continue waging a daily battle against the spread of the coronavirus by upgrading key areas and operations in institutional and commercial buildings, all with the goal of creating safe workspaces for occupants and visitors. While the day-to-day efforts go on, evidence is emerging on just what kind of impact the pandemic will have on building design, management and operations.
In terms of how future buildings will function, designers say the pandemic has bolstered corporate interest in redesigning work space to simulate nature, have better air filtration systems and use more materials that are better for the environment, according to CNBC. "Covid-19 accelerated our corporate clients' interest in health and wellness," says Gail Napell, a sustainability specialist and leader in design resilience at the architecture firm Gensler. "These are inextricably linked with work that is better for the environment."
Existing office buildings will see major changes, as well. Given that tenants suddenly seem to have the upper hand with regard to lease terms, commercial landlords are bending over backward to make them happy — namely, by offering office lease concessions, according to Million Acres. These are largely in the form of free rent and tenant-improvement allowances. Landlords also offering more flexible lease terms and lengths, while others are including opt-out clauses in their leases, where tenants can cancel the remainder of a lease, provided they compensate landlords for the expense of having to find a replacement tenant.
When it comes to the day-to-day impact of the pandemic, supply chains are coming under heavy scrutiny, according to DC Velocity. Corporate leaders are taking a hard look at business continuity planning as a result of the pandemic, which continues to rattle the nerves of business leaders up and down the supply chain. Those who run warehouses and distribution centers have seen the problem up close and personal, as they deal with the physical challenges of keeping facilities running during a pandemic, as well as broader customer service and strategic planning concerns.
Among the biggest changes in continuity planning is how companies view the importance of supply chain agility and adaptability, says Shehrina Kamal, product director at Resilience 360, a supply chain risk management software company.
"We are seeing a major shift in mindset," Kamal says. "Supply chain agility needs to be a core part of your operations. We've seen companies in the past view this as an optional thing, [but] the pandemic has shown us that in a situation like this, anyone with a supply chain agile enough to quickly adapt will survive."
Dan Hounsell is editor of Facility Maintenance Decisions.
---
Comments