4

FM quick reads on elevator

---
1. Check ASME Codes Before A Full-Scale Elevator Modernization
I'm Justin Smith, managing editor of web development for Building Operating Management magazine. Today's tip: elevator modernization. How can facility managers tell whether they should opt for a simple repair or a full-scale modernization? Start with codes. One resource is the National Elevator Code: American Society of Mechanical Engineers, A17.1. First, determine which version of the code is in effect. Some jurisdictions operate under code editions that may be 10 or more years old. Second, consider exactly what modernization means. It is critical to evaluate your system needs to determine if a simple repair will provide you with improved operation, or if a complete modernization will be required. Finally, consider that elevator upgrades can affect other building systems, like electrical or HVAC. If an elevator modernization is designed by the elevator company, the impact on the facility can be significant. With some planning, the upgrade process can be as smooth as possible.
2

. FMs Should Brush Up On Local Elevator Inspection Standards

I'm Justin Smith, managing editor of web development for Building Operating Management magazine. Today's tip: ensuring proper elevator certification.

Most people probably consider elevators convenient, but one professor at the University of Rhode Island recently experienced anything but. Associate Professor of Sociology Barbara Costello entered an elevator in a campus building on Thursday, March 11, but instead of carrying her to her destination, the elevator began to bounce up and down in place, according to the school's student newspaper. The doors of the elevator opened about two minutes later, but the situation is hardly uncommon on the campus. In a February 2009 article from the student paper, it was reported that 36 out of 64 elevators did not fully meet fire and safety codes, 18 required modifications, 12 were ineligible for new inspection certificates and six were completely non-compliant with state codes. University officials say the affected elevators have now either been fixed, or are scheduled for inspection. Facility managers around the country can take a cue from this situation and refresh themselves on the codes and standards that govern elevators in their facility, since the guidelines for frequency of inspection can be international, national, state, regional or city-based. Doing a little leg work now can prevent a sticky situation later.
3

. Elevators And Energy Use

I'm Brandon Lorenz, senior editor for Building Operating Management magazine. Today's tip: Elevators And Energy Use.

In a multi-tenant building where each tenant pays for his or her own energy costs, it's not unusual for the elevator system to be the largest user of energy in the base building. This is especially true in older high-rise buildings in large cities.

Fortunately, elevator modernizations can reduce the energy use. Regenerative drives are the norm on modern systems, but they can be retrofitted to many older systems too. In a regenerative drive, the braking action against the counterweight during ascent, and against the loaded cab during descent, is fed back into the building to power other systems. Regenerative drives can improve the efficiency of existing systems by an average of 40 percent, manufacturers say.

Other steps include replacing in-cab lighting to be more energy efficient and retrofitting older incandescent bulbs and illuminated call buttons with money-saving LED units.

You can also consider a modernization that puts the cab in hibernation mode when it's not being used. Think of it as an occupancy sensor for the elevator — when it's not in use, the lights and fans are shut down.
4

. Three Elevator Performance Measures

I'm Brandon Lorenz, senior editor for Building Operating Management magazine. Today's tip: Three elevator performance measures to monitor. Long wait times are an inconvenience for building occupants. But to facility managers, they should be taken as a warning sign that the elevator control system is developing problems. As a starting point, facility executives will want to regularly monitor the wait times tenants are experiencing once they push an elevator's button. For more on that, see the tip "Elevator Wait Times Getting You Down?" Here are some other performance characteristics to measure. One attribute to check is the elevator's stopping procedures. The car should stop level or within a quarter-inch of the floor to minimize the risk of occupants tripping as they enter or leave the elevator. Also should check that phones inside the elevators are in working order and that they connect to the monitoring entity. The doors shouldn't open and close so quickly that tenants worry they'll get caught if they move too slowly when exiting and entering the elevator. Some elevator consultants try to boost the speeds at which the doors operate, to cut trip times, but tenants often prefer a slightly slower pace. Facility executives also will want to look at callout rate, or the number of unplanned service outages during a set time period. This can be expressed either as the number of calls experienced during a quarter or year, or as the "mean time between call outs." So, if an elevator requires maintenance about once each quarter, the mean time between failure would be 90 days.
RELATED CONTENT:
elevator , modernization , upgrade , ASME , facility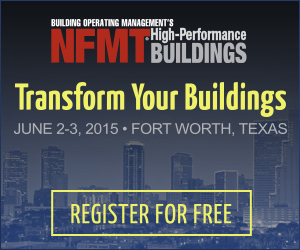 ---
QUICK Sign-up - Membership Includes:
New Content and Magazine Article Updates
Educational Webcast Alerts
Building Products/Technology Notices
Complete Library of Reports, Webcasts, Salary and Exclusive Member Content


All fields are required.


click here for more member info.

---
---
---