Facility Manager Cost Saving/Best Practice Quick Reads RSS Feed
NYC Moves Toward Making Buildings Safer for Birds
January 22, 2020 - Contact FacilitiesNet Editorial Staff »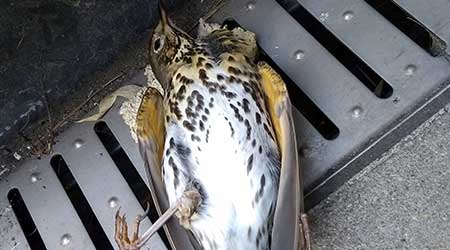 New York City has become the largest city in the United States to legislate the use of bird-friendly materials in facility envelopes in an effort to reduce the number of lethal bird collisions. On Dec. 10, the New York City Council approved Proposed Initiative 1482-B, which would require bird-friendly practices to be used in the first 75 feet above grade in new construction or in retrofits involving all of the exterior glazing.
Building glazing poses hazards to birds because of both its transparency and reflectivity. A bird might think it can fly through what looks like clear space or what looks like shelter, which is really a reflection of nearby landscaping. Building lights add to the problem, serving to attract and disorient birds migrating at night who then crash and die. New York City lies on the Atlantic Flyway migration path. Audubon estimates 230,000 birds strike facilities in the city each year, according to Curbed.
Bird-friendly practices will need to apply to at least 90 percent of the building envelope below 75 feet above grade, and include making glazing visible to birds through etching or UV-reflective patterns. In general, materials can not have a threat factor greater than 25 "in accordance with the American Bird Conservancy Bird Collision Deterrence Material Threat Factor Reference Standard, or with the American Bird Conservancy Bird-friendly Materials Evaluation Program at Carnegie Museum's Avian Research Center test protocol, or with a relevant ASTM standard."
Proposed Initiative 1482-B has been sent to the mayor's office for signature and will be enforceable one year later, which is expected to be December 2020.
Naomi Millán is senior editor of Building Operating Management.
---
Comments