High School Features Custom Sunscreen and Translucent Facade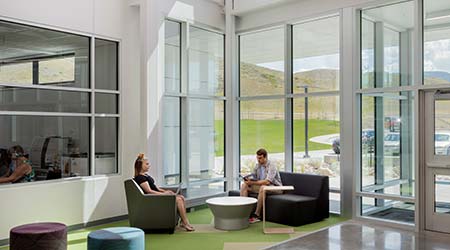 July 9, 2018 - Windows & Exterior Walls
Set within a 38-acre educational campus in Casper, Wyo., Roosevelt High School and the new Pathways Innovation Center (PIC) share 126,000 square feet of learning space. The facilities emphasize daylighting, openness, transparency, and collaboration.
Up to 500 students arrive each day at PIC from three area schools, including the adjacent Roosevelt High School. The school district wanted to increase engagement with students, not just add more classrooms.
Many of PIC's students may not attend a four-year degree, and typical lecture formats didn't meet their needs. PIC provides a place where they can learn by doing and by creating.
"Fabrication Hall" is positioned at the core of PIC's 83,835-square-foot building where a traditional school design may place the lunchroom or commons area. All of PIC's academies share the Hall and are intended to foster inspired thinking and hands-on learning.
Fabrication Hall offers a 5,000-square-foot, two-story common space surrounded by cutting-edge laboratories and state-of-the-art equipment. The 30-foot-high exterior wall facing north incorporates the Exterior Technologies, Inc. (EXTECH) Lightwall 3440 dual wall system, composed of polycarbonate panels that provide insulating values up to R8.2. The company also custom-fabricated vertical sunscreens with 1.5-inch-thick cellular polycarbonate.
Roosevelt High School was also renovated and expanded. Although Roosevelt High School is called "alternative," it features a more traditional learning space than PIC. It serves a significantly smaller student body than PIC, approximately 220 students; and logically, also is the smaller of the two facilities at 42,240 square feet. Prior to its renovation and expansion, the previous building was constructed in 1900 as an elementary school. Nearly 120 years later, the structure continues to be reimagined to benefit future generations.
The updated school's main entry features a two-story sunlit atrium featuring the Lightwall 3440 wall systems. At the top of the entry, the polycarbonate panels have a 75-degree angle.
---
Comments