Standalone Ice Arena Earns LEED Platinum Rating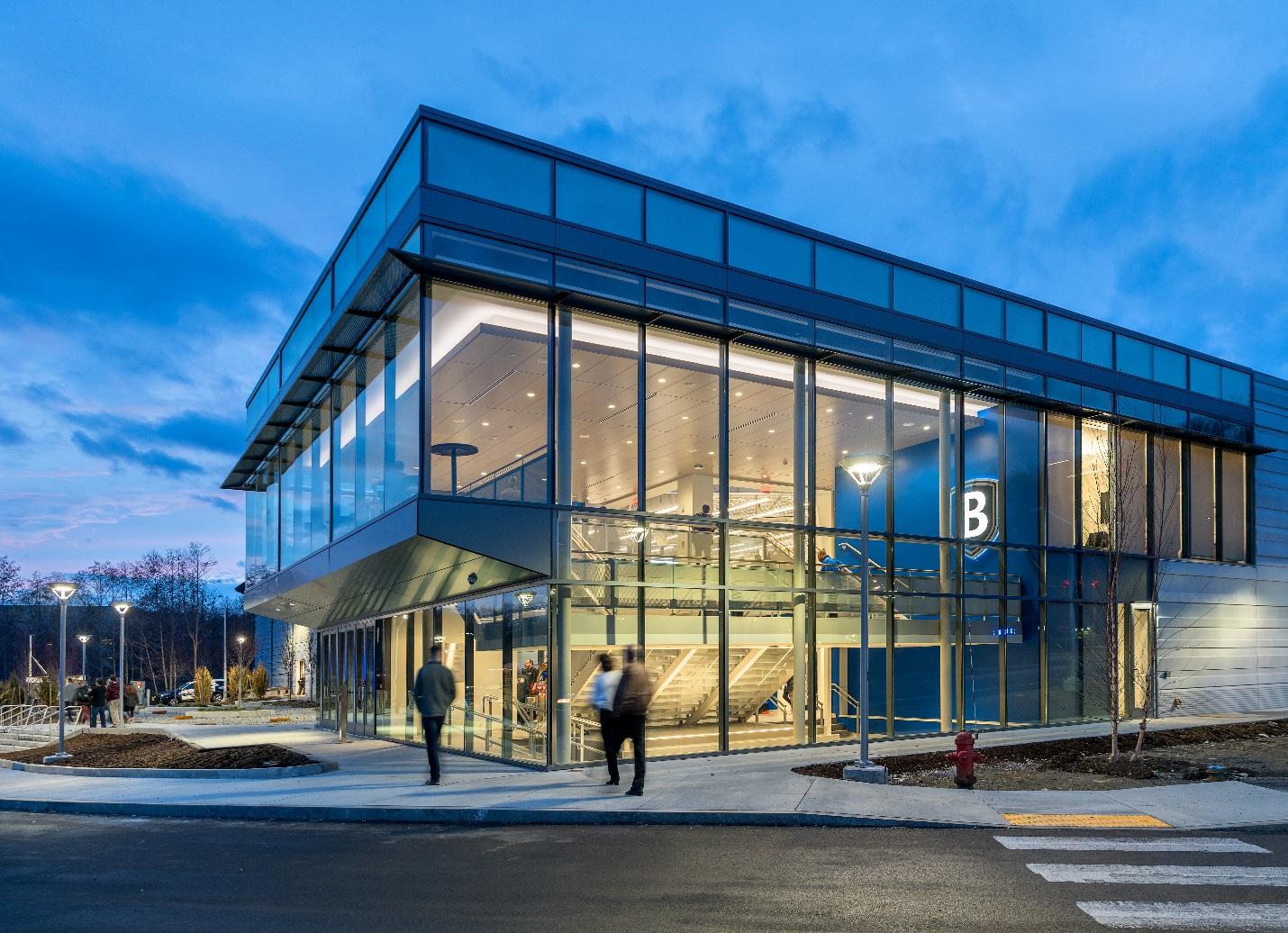 May 23, 2018 - Educational Facilities
The new, state-of-the-art multipurpose Bentley Arena is the most environmentally sustainable in the United States and is the first standalone ice arena to earn the LEED Platinum certification, the highest possible rating, according to the U.S. Green Building Council. The award for the recently opened, 76,000-square-foot arena highlights the building's sustainable design and energy efficiency. Bentley University is a nationally-recognized business university that offers a diverse arts and sciences program combined with an advanced business. The university enrolls approximately 4,000 undergraduate and 1,000 graduate students.
"This first-in-the-nation rating for the Bentley Arena demonstrates Bentley's strong and longstanding commitment to sustainability," said Bentley University President Gloria Cordes Larson. "From our university-wide commitment to achieving carbon neutrality by 2030, to our Sustainability Science major for students, to our campus waste reduction program that recycles more than 270 tons of material per year, Bentley acts every day on our mission of preparing environmentally conscious, socially responsible leaders."
"Thanks to the combination of the rooftop solar technology and energy-efficient mechanical design, the overall grid energy required to power the arena will be less than half of what it would take to power a building of a similar size," said Amanda King, director of sustainability at Bentley. "These technologies also cut the building's carbon footprint in half."
The Bentley Arena hosts the university's NCAA Division I hockey team and prominent university events such as career fairs, high-profile speakers, alumni events and concerts.
The sustainable features of the arena include:
• A 504 kilowatt, rooftop solar array developed by Rivermoor Energy that will generate 40 percent of the building's annual electricity needs.
• Innovative technology that captures heat generated from the rink's ice-making equipment to heat water throughout the building.
• More glass windows than a typical arena, allowing for more natural light that decreases the amount of electricity needed to light the building's interior.
• High-efficiency LED lighting with smart, motion-detecting controls that turn off lights when no one is present to sharply reduce electricity usage.
• The highest-efficiency plumbing fixtures on the market, including waterless urinals, dual-flush toilets, and low-flow faucets and showers to reduce the demand for water.
• At least 50 percent of wood used in the building is sourced from forests with certified sustainable forestry practices
• About 10 percent of construction and finish materials were locally sourced and about 20 percent of construction and finish materials contain recycled content.
As a signatory of the American College and University Presidents' Carbon Commitment (ACUPCC), Bentley University has acknowledged that global warming is taking place on an unprecedented scale and the scientific consensus is that contemporary climate change is caused in large part by human activity. The commitment recognizes that institutions of higher education have a unique role in society as both role models in their communities and as hubs of research and innovation. As such, Bentley and other signatory institutions are committed to achieving carbon neutrality on their campuses.
Bentley's Climate Action Plan serves as a written roadmap to reach this carbon-neutrality goal with interim targets along the way. Bentley's emissions reduction goals will be achieved via a multi-pronged approach which includes:
• Implementing a building retro-commissioning and energy efficiency upgrade program.
• Continuously upgrading building controls for more efficient operation of heating, ventilation and air conditioning systems.
• Installing onsite renewable energy systems.
• Educating and engaging students, faculty, and staff in energy conservation and sustainability efforts.
• Purchasing renewable energy via Renewable Energy Certificates (RECs).
It is Bentley's goal to examine campus operations and invest in making the university's buildings and operations as energy efficient as possible. The purchase of RECs has allowed Bentley to effectively offset the remaining greenhouse gas emissions and invest in the U.S. renewable energy market.
---
Comments