You Might Like
On FacilitiesNet
Software Specification Evolves for FM Market
Part two of a three-part article on software evolution
OTHER PARTS OF THIS ARTICLE
Pt. 1:
Software: Evolution and Integration of CMMS, CAFM, IWMS
Pt. 2: This Page
Pt. 3:
Insights Into Software Specification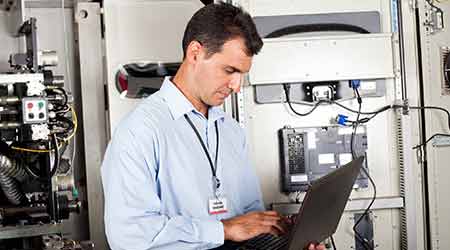 Software in facility management has evolved in recent years to include more than the maintenance and engineering management provided by most CMMS. The software now can provide more thorough and effective management of facilities and their organization's operations.
Facilities management is much more immersive and smooth with the implementation of computer aided facility management (CAFM) software and integrated workplace management systems (IWMS).
CMMS. Once, most managers specifying maintenance software focused on CMMS. Much of the responsibility of their departments centered on the maintenance of assets and equipment and handling work orders submitted by employees for varying reasons — too hot, too cold, something in need of cleaning, etc.
Initially, many departments operated reactively, performing maintenance when something becomes an issue. There was not much of a system to it. As preventive maintenance became more the standard, CMMS became more useful to facilities departments. Managers could load it with all of the assets and equipment requiring maintenance and provide a task list and schedule of when this maintenance should be conducted in order to meet and/or extend the useful life.
The functionality of CMMS is perfect for facility maintenance, but departments often utilize spreadsheets to conduct the various other responsibilities, such as tracking and reporting information, workforce scheduling, and space management.
This approach is limited and time consuming. The convergence of more responsibility and technology under the facilities umbrella has caused many departments to seek more effective forms of management, which established the need for more effective software.
CAFM. CAFM software has arisen from the call for more effective management of maintenance and engineering. The software aims to increase the efficiency of facility management while reducing costs. Think of CAFM as a system of different modules that all have different functions, purposes, and outputs.
Managers can mix and match the modules that are most useful based on a department's responsibilities, as well as the mission, vision, and values of the organization. The software traditionally pairs platforms that support space management, facility management, and reactive maintenance – CAD facility plans, operations and preventive maintenance, and a work order system.
CAFM makes it possible to track, manage, report, and plan facilities operations and is not limited to maintenance. When in use, departments often note an increase in the utilization of space, thus increasing the efficiency of maintenance by allowing managers to redirect efforts to spaces that are used more frequently. The software also increases facility performance by incorporating technology and an interface, which allows monitoring and tracking of critical equipment, energy use, performance, and other information pertinent to the area the equipment or system serves. CAFM identifies opportunities for improvement by tracking key performance indicators (KPIs) for space, operations and maintenance, cost, and other mission critical information.
A step up from CMMS and spreadsheets, CAFM software can solve the management woes of some departments. Other departments require software that has a greater degree of internal communication. CAFM commonly operates from different technology platforms, which can complicate the management process, due to limitations in the sharing of data between platform that occasionally occur.
IWMS. Whereas CAFM software traditionally operates from multiple technology platforms, a true IWMS operates from a single platform and information database. An IWMS is much like CAFM, and managers will find five distinct functional areas: real estate and lease management; facilities and space management; maintenance management, project management; and sustainability.
Aside from single vs. multiple technology platforms, the biggest difference between CAFM and IWMS is the employment of components directed at real estate and lease management, project management, and environmental stewardship and sustainability. The extended functionality of IWMS essentially puts all aspects of FM in one operable platform. It can offer real benefits in the management of facilities when it comes to efficiency and savings.
Using a system based on one technology platform also allows for greater integrity of information, reporting, and communication because there is a single collection of data, which eliminates or greatly reduces redundant, impartial, and inaccurate data.
When implemented properly, IWMS and CAFM can increase productivity of technicians and engineers, the reliability of information sharing, service to building occupants, and the efficient use of space, among other benefits. The incorporated financial component of IWMS with each of its management offerings increases the performance of the software. It puts the tracking, reporting, and managing of separate but interconnected areas to use and presents opportunities for savings that can decrease an organization's total cost of ownership.
Continue Reading:

Software

Software: Evolution and Integration of CMMS, CAFM, IWMS

Software Specification Evolves for FM Market

Insights Into Software Specification
---
---
---
Related Topics:
Comments