« Back to Facilities Management News Home
Vinyl Flooring and Aesthetics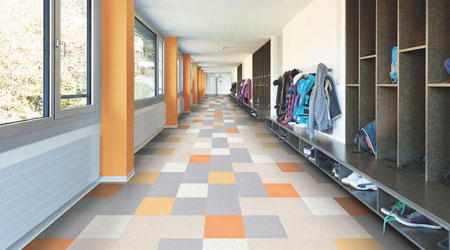 Tarkett announces the launch of a new vinyl composition tile collection, simply named Tarkett VCT.

In this newly formatted palette, Tarkett brings great design and outstanding value together in a long-trusted flooring solution, particularly for education and retail environments. The collection offers 29 of the brand's most popular colorways, including contemporary neutrals and vibrant branding accents.

"Tarkett VCT offers the perfect combination of value and longevity. We are excited to bring a new look to the VCT market with colors that appeal to a wide range of segments, including education, healthcare, retail, and more. Architects and designers can trust this material to deliver years of wear and tear, while helping keep overall project costs within budget," said Jim Fleckner, product manager for Tarkett North America.

At Tarkett North America, we believe that together, we can make a positive impact on people and the planet. That's why we're Doing Good— Together, connecting our sustainability efforts with what our customers value and our world needs. It's an active, living commitment to create a future where people and the planet prosper in balance. Where sustainable flooring solutions don't just perform, they inspire.

Tarkett VCT is constructed with 85% limestone, is phthalate-free, and 100% post-consumer recyclable right back into VCT.

Tarkett believes in placing people in the center of every space. So we've developed a portfolio of products designed to work together both functionally and aesthetically, helping you create more productive workspaces that maximize return on investment.

The Tarkett Solution SPECtrum™ helps you expertly recommend a flooring platform for the specific needs of every space and every budget. And our full palette of colors, patterns, and textures is coordinated to work together visually across platforms. So the endless balance of function, safety, and longevity is always done on budget, in style, sustainably. Without compromise.
More From 3/15/2019 on FacilitiesNet