« Back to Facilities Management News Home
Vinyl Flooring Aims To Boost Aesthetics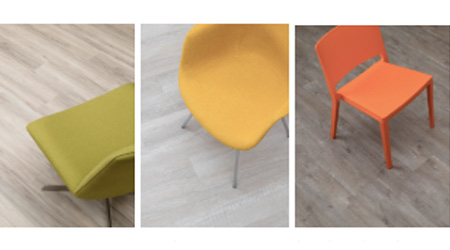 Parterre Flooring Systems, a luxury vinyl flooring and surface manufacturer, introduces an impressive addition of plank and tile designs to a top-selling collection for the company, Vertu Luxury Vinyl Plank. Parterre's newest design releases feature a neutral color palette as well as contemporary grays highlighting the less-defined graining of softer woods, which have recently grown in popularity.

"With the Vertu collection including inviting wood looks with a contemporary aesthetic, the new design offerings are well suited for the hospitality, commercial and multi-family industries," said Parterre Designer, Roche FitzGerald. "Vertu's sleek designs and colors on the floor create a unique and comforting space in any setting."

The Vertu collection exhibits the artistry of nature through a contemporary collection of organic wood designs that embrace the beauty of natural flaws. This collection complements the bold accent colors often found in fabrics and furnishings, serving as a canvas for the overall design elements to play off of, creating an inviting space for commercial interiors. For a total of 37 designs in the collection, 12 new plank designs have been added to this collection with sizes varying by design, available in either 6" x 36" x 3mm or a new size for Vertu, 7.25" x 48" x 3mm. Among the standout additions are Shutter Oak, a warm brown wood with a linear design and a maple wood unique with varying color tones called Venise Maple. First-time wood species for Vertu includes Silver Bamboo, an abstract gray with metallic shading to it, and Canna Teak, a sleek, warm red/brown wood.

Parterre's Vertu Collection (L to R): Canna Teak, Morning Oak, Cloud Oak, Terrasse Oak, and Keren Briar

Also launching in Vertu, Keren is offered as a feature design and is a woven-like tile inspired by the intricate craft of basket weaving. Launching in three colors, Jute, Briar, and Thread - all materials traditionally used to weave baskets - Keren will be available in 18" x 18" x 3mm tiles. The gray and beige neutrals available can be easily paired with other LVT woods, particularly in the Vertu collection, for a unique blend of textures and patterns.

"The Keren design is unique for luxury vinyl," said FitzGerald. "It has a strong cross-hatching, giving it a true woven look that is perfect for commercial settings. And for an installation all its own, pair Keren with any of the new planks in Vertu."

Each of the new designs throughout the Vertu collection has the high quality and craftsmanship that Parterre is known for. Utilizing hot press technology, Vertu has a sturdy construction with multiple layers of backing that are fused together to create a tighter bond for a more stable product all around. Like all of Parterre's LVT products, the Vertu Collection features an ultra-clear, high-performance wear layer that is easy to maintain and has a resistance to staining and scuffing. The result is a beautiful surface that is both long-lasting and durable.
More From 1/18/2019 on FacilitiesNet