You Might Like
On FacilitiesNet
« Back to Facilities Management News Home
Vertical Multistage Pumps Aim To Increase Efficiency, Reliability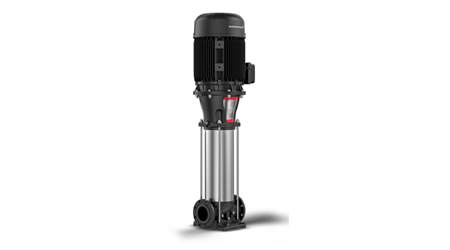 Grundfos is pleased to release its newest generation of the legendary Grundfos CR pumps. The much-anticipated, redesigned pumps offer efficiency and reliability, making them a perfect solution for pressure boosting in various applications.

The pumps are being released after extensive research, development and testing of new hydraulic designs, and are engineered using state-of-the-art production methods, including a fully automated and flexible production line. Once the new generation is fully released, it will include three extra-large flow sizes of up to 580 psi pump pressure.

"The new CR significantly moves the limits for energy efficiency, which is essential when you are working with large pumps," explains Jay Stellmacher, vice president of sales at Grundfos. "Anyone working with the new CR will literally have millions of customized solutions available to them to boost pressure throughout their entire facility."

The Grundfos CUE drives are specifically optimized for pump operation and available in all voltages and frequencies for pumps in the CR range. CR pumps up to 30 horsepower can be fitted with either integrated drives (CRE) or stand-alone drives (CUE). For the large CR/CRN range, Grundfos offers plug-and-play drives that can even be preconfigured and tested to suit specific needs.

The CR range forms the backbone of the Grundfos plug-and-play Hydro MPC booster systems. These performance- optimized systems are available in configurations with up to six CR pumps, allowing for flows of up to 5,400 gpm.
The expanded range of CRs can also be integrated into Grundfos Engineered Systems, which offer unique systems designed and engineered specifically to meet the needs of any project. The GES packages arrive pre-wired, pre-piped and pre-commissioned which allows for ease of installation. GES packaged systems come with a multitude of options for pumps, valves, controls, intelligent controllers and VFDs for your specific equipment requirements.

Attendees at the International Production and Processing Expo in Atlanta can experience the full impact of the CR pump range from the top of the Empire State Building, on a helicopter or even in a racecar – via virtual reality simulations in Booth #B8309. Grundfos' product experts will also be at the booth to walk attendees through Grundfos' many other food processing products and solutions.
More From 2/6/2019 on FacilitiesNet