You Might Like
On FacilitiesNet
« Back to Facilities Management News Home
Liquid-Applied Roof and Waterproof Membrane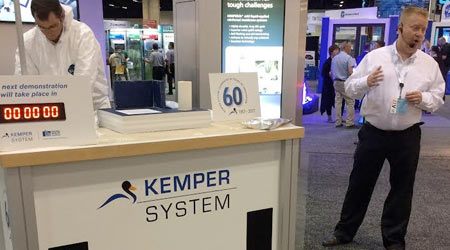 Architects and other commercial roof specifiers can protect and accent flat and low-slope roofs with a new Kemperol cold liquid-applied membrane roofing and waterproofing system from Kemper System America, Inc., to be introduced at the International Roofing Expo (IRE) 2019 in Nashville, Tennessee, February 11-13, booth #615.

Kemperol 2K-FR is derived from the successful, bright white Kemperol Reflect 2K-FR resin system. Kemperol 2K-FR is fully reinforced and features 'thru color': It does not need a color topcoat because the resin is tinted throughout. The one-step installation will be demonstrated at IRE in an on-floor seminar, February 12 th at 2:15 p.m., and at booth #615 several times during the three-day show.

Designed for extended life on new or existing low-slope roofs, the Class A fire-rated, odor-free polyurethane resin (PUR) system is now available in Stone Gray or Patina Green.

"A Kemperol thru-color membrane roof can lift the overall aesthetics of a building whether some or all of the roof is visible. The color can also provide visual relief on re-roof projects, such as dark built-up roofs that were in place for many years," Arnold said. He points out that there is no topcoat to chip or flake off, and the one-step application helps hold the line on installation costs.

White Roofs Not Always Best Choice
While white roofs are generally preferred in warmer regions where they can help lower building cooling requirements, the overall energy-saving benefit diminishes and becomes undefined further north, Arnold said. In addition, high reflectivity may not be desirable for certain projects or areas. For example, some roof areas may be in shadow most of the day, and in sunny areas of the roof, glare can be intense on floors immediately above. Reflected glare can also contribute to excess heat build-up which can make occupants uncomfortable and add to air conditioning costs. Reducing glare can also be especially important for hospitals, schools and offices.

For roof projects that can benefit from a high Solar Reflectance Index (SRI) roofing, Kemper System offers two cool-roof membrane systems – Kemperol Reflect 2K-FR (SRI 110), a PUR, and Kemperol AC Speed (SRI 108), a PMMA. In addition, Kemper System offers two elastomeric-based products which can be brush, roller or spray-applied – Roof Guardian RG- 180, a fibered white acrylic elastomeric roof (SRI 108), and Roof Guardian RG-170, a white elastomeric coating (SRI 109).



More From 2/6/2019 on FacilitiesNet