« Back to Facilities Management News Home
Space Reservation Panels Offer Improved Employee Experience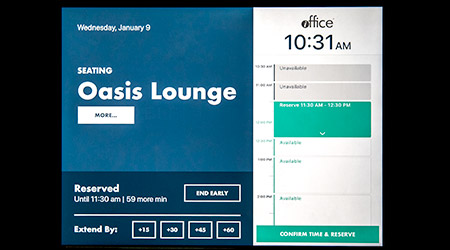 The transformation of the employee experience continues as iOFFICE announced the release of HUMMINGBIRD Space Panels. These in-room tablets allow users to quickly reserve spaces- from conference rooms to quiet zones to nap pods - as well as create service requests for those spaces from any desktop or mobile device.

The HUMMINGBIRD Space Panel lets users:


See which spaces are reserved or available anytime, anywhere;
Create and extend space reservations for any time frame with one click;
Automatically update Outlook and Google calendars and the iOFFICE platform;
Check-in to ensure you don't lose the space once the meeting has started;
Check out early to make the space available for another reservation;
Request a variety of services such as audiovisual, catering, and janitorial - all configurable and customizable, based on each company's services catalog.

The process for customers is simple. HUMMINGBIRD Space Panels are an extension of the HUMMINGBIRD App, the industry's first mobile EX solution for the digital workplace. Because Space Panels runs on standard-issue iPads, there's no need for expensive dedicated hardware, software or training. Intuitive, fast, and smooth, users can get everything they need in a few clicks. Fully integrated with the iOFFICE platform, it connects with standard SaaS and custom apps as well as the iOFFICE Insights module, so facilities and CRE leaders can track usage, preferences and service requests to better plan for the future.

"It's clear that those companies that invest in elevating the Employee Experience have a significant competitive advantage," said Mark Peterson, CEO of iOFFICE. "With each new product we launch, we're looking to grow that advantage for our customers while constantly improving the productivity and engagement level within the workplace."

The HUMMINGBIRD app and HUMMINGBIRD Space Panels are available in 13 different languages, including English(UK), French, and German.
More From 3/22/2019 on FacilitiesNet