« Back to Facilities Management News Home
Smart Mixing Valve Offers Improved Ease of Use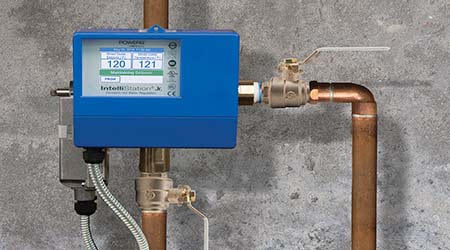 Powers, a Watts brand, has introduced the IntelliStation Jr. digital mixing valve – an easy-to- install smart mixing valve that connects through the Building Automation System (BAS).

Passcode-protected and configurable on site, IntelliStation Jr. does not require factory pre- programming, a laptop, or special software to download for commissioning, or when making adjustments to the valve.

Special features include:


Programmable set point range of 60°F to 180°F
Control of water temperature +/- 2°F in accordance with ASSE 1017
User-selected high and low temperature alerts enhancing safety
Scheduling feature with temperature setback saving energy and money
Lead free construction to comply with lead free installation requirement
High temperature Sanitization mode to address waterborne bacteria
BAS communication protocols, BACnet MS/TP and Modbus, native to the controller do not require a separate module or additional cost
Wi-Fi enabled for fast and easy software upgrades

Also, the IntelliStation Jr. is self-balancing, which prevents overnight temperature creep by balancing the hot water distribution system during low- to no-demand periods.
More From 6/12/2019 on FacilitiesNet