« Back to Facilities Management News Home
Reusable Rugs Are Not Environmentally-Friendly: Study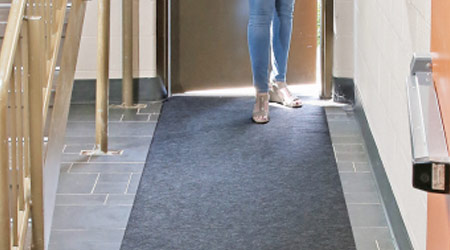 New Pig Corporation, a provider of products that keep floors clean and safe, recently determined that its Pig Grippy Floor Mat has a 92 percent lower environmental impact than laundered rental mats. Conducted by environmental studies experts from the renowned Golisano Institute for Sustainability (GIS) at the Rochester Institute of Technology, the study compared the environmental and energy impacts of Grippy Mat and traditional rental mats.

Specifically designed to eradicate same-level slips, trips and falls, Grippy Mat is the world's first adhesive-backed absorbent mat solution on the market. Unlike rental rugs, Grippy Mat lays flat, sticks tight, and never bunches, ripples or shifts. It's also extremely durable and built to last up to three months before change outs, eliminating the environmentally harmful laundering process used with rental mats.

"We've known for years that Grippy Mat is dramatically safer than rental rugs in preventing slips, trips, and falls, but we now have proof that it's also much better for the environment," said Dan Silver, vice president of product development at New Pig. "We designed Grippy Mat to create as little environmental impact as possible, so we had reason to believe it was more environmentally responsible than the laundered rental mats it was designed to replace – and the results confirmed our hypothesis ."

To understand the impacts of Grippy Mat, the experts at GIS conducted a life cycle assessment (LCA), which measures the environmental impact of a product from material extraction, through manufacturing and assembly, packaging, transportation, use and end of life.

The results of the study revealed that Grippy Mat has about 92 to 98 percent less life cycle impact than that of the rental mat. The majority of the reduced impact is attributed to the elimination of the energy taxing laundering process that is a part of all rental mat programs. In fact, to have the same negative impact as just one laundered mat, Grippy Mat users would need to replace their mat 47 times per year – Grippy only needs to be replaced four times per year.

"The commonly accepted myth is that if something can be reused, it's better for the environment. However, we had good reason to believe that this is not always true. The results of this study by GIS shatter this notion and prove that Grippy Mat is the best choice for preventing slips, trips and falls while producing the smallest environmental footprint." continued Silver.
More From 1/10/2019 on FacilitiesNet