« Back to Facilities Management News Home
RectorSeal's AC Leak Freeze PRO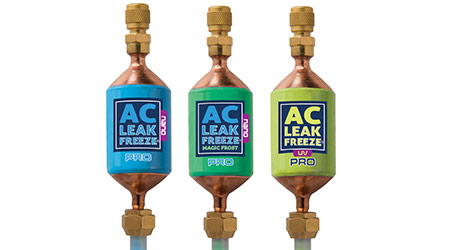 AC Leak Freeze® nano PRO, the HVAC industry's first refrigerant leak sealant designed to permanently repair nano as well as micro-sized leaks in residential and commercial refrigeration and air conditioning systems. AC Leak Freeze PRO series quickly and safely extend the life of A/C and refrigerant systems.
OEM-approved, non-polymer formula with quick-installing safe applicator includes nano particles. These randomly-shaped particles are designed to stop refrigerant leaks from jagged, irregularly-shaped nano-sized holes that are up to 1,000-times smaller than micro holes, therefore difficult to seal with conventional sealants.
AC Leak Freeze nano Pro is the industry's only double action sealant: 1) seals leaks in one to six-ton units with an oil-based, polymer-free, 1.5-ounce (44-ml) formula that doesn't clog system components or refrigeration tools; and 2) uses nano particles to repair holes too small for conventional sealants.
Service technicians can add a third action by applying AC Leak Freeze nano PRO with Magic Frost, which includes an anti-friction lubricant additive that reduces noise and vibration, while enhancing system efficiency.
Available in three formulas, regular, magic Frost and UV for 1.5 oz (for 1.5 to 6-ton systems) and .04 ounce dose for all ductless mini-split brands and other refrigeration systems under 1.5-tons and smaller refrigerant volumes
More From 9/5/2019 on FacilitiesNet