You Might Like
On FacilitiesNet
« Back to Facilities Management News Home
Prefabricated Wood Buildings and Energy Efficiency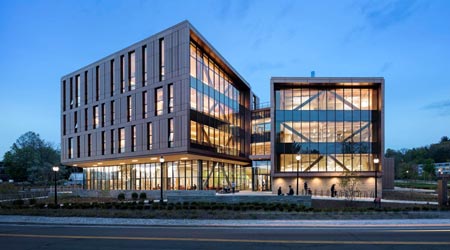 As the nationwide labor shortage intensifies and building material costs continue to inflate, Think Wood recognizes the need for building owners and developers to maintain the viability of projects. Prefabricated wood buildings—which are no longer limited to single-family housing and smaller temporary workspaces—offer an innovative solution with a multitude of benefits, including process efficiency, a controlled environment, greater return on investment, material efficiency and reduced waste. Collectively, these benefits can help meet the value and performance demands from owners, designers and developers.

Given the short supply of skilled labor in the construction industry, increasing productivity is key to meeting the growing demand for new building construction. While there are concerns that standardizing and automating construction in a factory setting deskills traditional trades, in reality, it upskills the industry and prepares the trades to efficiently deliver buildings through technologically-advanced design, fabrication, logistics and assembly. Structural mass timber components can be prefabricated offsite and delivered quickly, significantly reducing the worksite footprint and construction timeline.

A prime example of modern wood prefabrication is MOTO, a 64-unit apartment building with integrated parking and retail in Denver, Colo. The four-story, light-frame wood structure is set over a two-level concrete podium with above-grade parking. The project contractor recommended using prefabricated wall panels, flooring and ceiling joists to accelerate construction, reduce material waste and eliminate rain-day downtime, and the architect and developer quickly agreed.

"Speed is really the most surprising feature of a pre-built strategy," said Nick Seglie, senior designer at Gensler, the firm that designed MOTO. "It took about one week to frame-up each floor. The entire building was framed in less than a month."

Using prefabricated wood construction enabled the impressive framing time MOTO exhibited, which can equate to reduced labor dependency and overall construction costs when compared to other common worksite construction methods.

"I think many people get single-minded about this typology," said Seglie. "With a little forethought, you can do a lot more with it than people expect."

Prefabricated wall and floor panels also offer easy handling during construction—a key advantage, especially in construction of buildings 5 to 10 stories tall. Lighter wood panels mean foundations do not need to be as large, and smaller cranes can be used to lift panels higher. At the four-story John W. Olver Design Building at University of Massachusetts Amherst, four 60-foot-tall cross-laminated timber panels comprising one of the building's shear wall cores were lifted and dropped into place with a crane and anchored to the foundation, all in one weekend.

There are several advantages to utilizing prefabrication for multifamily and commercial construction, including:


Process Efficiency: Detailed planning standardizes and streamlines construction processes, enabling construction efficiency that meets aggressive schedules and decreases on-site assembly time. Sequencing is also improved, as prefabricated components are sorted and loaded onto trucks to minimize on-site handling.
Controlled Environment: Because prefabricated components are produced in a controlled environment, quality and precision of components improve, fabrication productivity increases, worksite safety for tradespeople improves and weather is not a factor in slowing down the construction process.
Greater Return on Investment: Redundancies and waste in both materials and time are streamlined, making budgets easier to meet. Although building components can be more expensive up front, the complete installed cost is often less because on-site construction is quicker and more efficient.
Material Efficiency: Prefabricated components are made off-site, typically using modeling technologies that provide extreme precision and reduce waste. Specific sizes and dimensions of components are determined in advance and made or cut to tight specifications, lowering the environmental impact of a project by minimizing waste both on- and off-site.
More From 11/15/2018 on FacilitiesNet