« Back to Facilities Management News Home
Portable Propane Air Heater and Jobsite Productivity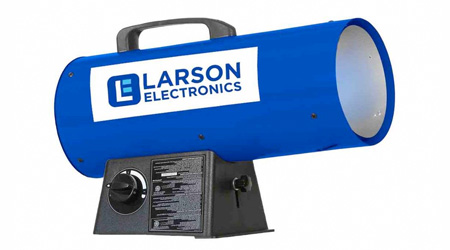 Larson Electronics has announced the release of a 120-volt adjustable propane forced air heater that provides 400 CFM of air flow and a heating range of 120,000, 135,000 or 150,000 BTUs of heat output. This portable indoor-use heater is mounted on a flat base and is equipped with a 10-foot hose and regulator.

The GAU-GFA-HH-150K portable forced air heater consumes propane at a rate of 5.5 lbs., 6.2 lbs. or 6.9 lbs. per hour based on BTU output, and has a maximum runtime of 18 hours on a full tank. This unit has several safety features, including high-temperature shut-off, thermocouple and flame-out fuel cut. The heater's controls are also enclosed for added safety.

The durable GAU-GFA-HH-150K propane heater comes with a power cord allowing operators to complete electrical connections and features a carrying handle on the top for easy portability and seamless transportation around any work site. The heater's base can also be adjusted for accurate placement of the unit. Suitable applications include construction sites, warehouses, commercial spaces, industrial buildings, schools, indoor facilities, barns and more.
More From 11/27/2018 on FacilitiesNet