« Back to Facilities Management News Home
Otis China: Unit to Provide Elevators for Asia's Largest Hilton Hotel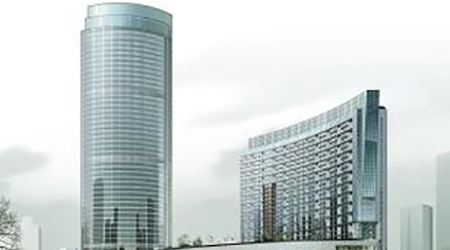 Tianjin, China — Jan. 18, 2016 — The new Dongguan Huijing Hilton Hotel now under construction in Guangdong, South China, will feature 26 Otis elevators and escalators supplied by Otis Elevator China Co., Ltd. ("Otis China"), including high-speed Skyrise and Gen2 elevators.
Upon completion in 2017, the hotel will be the largest Hilton hotel in Asia in terms of the number of guest rooms.
Developed by Dongguan Huijing Group and managed by Hilton Group, the Dongguan Huijing Hilton will cover an area of 270,000 square meters with a five-star hotel, serviced apartments, and high-end mixed office and retail space.
Its location in Houjie, a destination in the Pearl River Delta, positions it well to serve business travelers and visitors.
The Otis elevators and escalators selected for the new complex incorporate a number of innovative technologies. The Skyrise high-rise elevator, for example, operates at speeds of up to 6 meters per second and offers advanced safety features. The Gen2 systems incorporate ReGen drive technology for energy savings of up to 75 percent compared to traditional elevator systems with conventional drives.
Otis has supplied products and services for Hilton in China and around the world, including the prestigious Waldorf on the Bund in Shanghai. For more information, visit www.otis.com.
More From 3/24/2016 on FacilitiesNet