« Back to Facilities Management News Home
Lighting Fixtures and Acoustics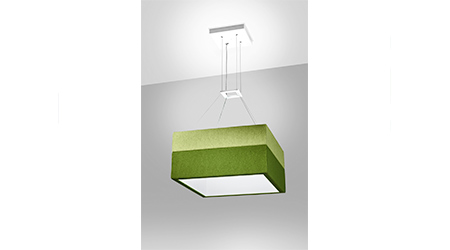 Eaton Lighting's Shaper Sense acoustic lighting series is available with FilzFelt, providing aesthetically appealing fixtures with high visual performance and quality acoustic surrounds.

FilzFelt's unique German-milled 100 percent Wool Design Felt is available in 62 colors. The capacity of felt applied to recycled substrate sets them apart from other acoustic material providers. The Shaper Sense family allows designers to customize the fixture, even allowing the ability to select multiple colors on one product.

The light engine is a square or round edge-lit acrylic panel that encompasses different shaped acoustic surrounds. These acoustic lighting fixtures allow natural daylight to filter through when off, and use daylight harvesting from wireless control systems to maintain uniform light levels. Shaper Sense is also fully compatible with Eaton's connected lighting systems, including the LumaWatt Pro Wireless Connected Lighting System and WaveLinx Wireless Connected Lighting System.
More From 6/11/2019 on FacilitiesNet