CPower - Healthcare Facilities
Webcast: Learn How Energy Assets Can:
Provide Significant Savings, Generate Revenue, & Maximize ROI. Wednesday, October 9, 2019 at 11 AM ET
« Back to Facilities Management News Home
Laser Levels and Enhanced Precision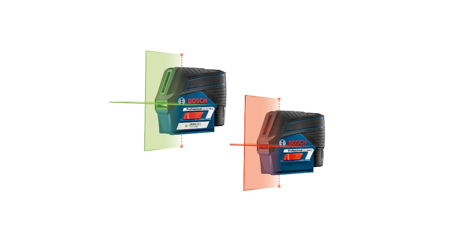 The Bosch GCL100-80CG 12V Max (green beam) and Bosch GCL100-80C 12V Max (red beam) Connected Cross-Line Lasers with Plumb Points deliver all-in-one versatility that combines cross-line laser precision and two laser plumb points. Each laser projects visible lines up to 100 Ft.; the green beam option offers a line that's 4X brighter than standard red beams. Both units have red points.

These tools feature Bosch-exclusive VisiMax technology, which monitors tool temperature and power consumption to deliver the brightest line for the job. In addition, the two lasers feature Bosch 12V Max Lithium-ion power for extended runtime. And users can connect the laser to their smart phone with the free Bosch Levelling Remote App (available at the Apple App Store® and the Google Play™ Store) to increase precision and productivity on the jobsite. The lasers can work with an optional Bosch laser receiver (LR 6 or LR8) to extend that range to 165 Ft.

The Bosch GCL100-80CG 12V Max and Bosch GCL100-80C 12V Max Connected Cross-Line Lasers with Plumb Points are ideal for the user who works a variety of jobs involving plumbing, leveling and aligning. The two lines are precisely level and plumb thanks to a self-leveling system that also indicates when the tool is out of level. The devices also are equipped with an integrated one-switch locking pendulum that allows safe tool transport. Included with the kit is the RM 2 Magnetic Rotating Mount, which rotates 360° with a fine adjustment knob.

"Trade professionals look for versatility in their tools. No, they demand versatility," said Jordan Majstorovic, product manager, Bosch Power Tools, Measuring Tools. "The two Bosch combination lasers, GCL100-80CG 12V Max with green beam and the GCL100-80C 12V Max for red beam, deliver precise all-in-one performance that professional users appreciate. You have a precision tool for two or more jobs. Perfect."

The Bosch GCL100-80CG 12V Max and Bosch GCL100-80C 12V Max Connected Cross-Line Lasers with Plumb Points facilitate one-person job setup with horizontal leveling, vertical alignment and plumb point transfer applications, highly visible lines and points, connected capability, and lithium-ion battery technology for extended runtime.
More From 2/5/2019 on FacilitiesNet