« Back to Facilities Management News Home
LED Headlamps and Increased Visibility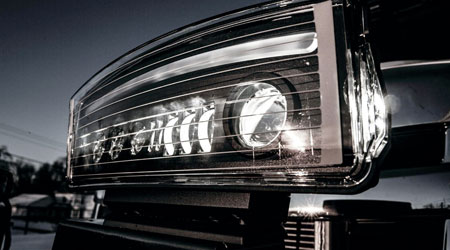 Fisher Engineering, manufacturer of FISHER snow removal and ice control equipment, revealed its new INTENSIFIRE LED headlamps with EdgeView Technology at the 2019 NTEA Work Truck Show. The highly anticipated LED headlamps offer unique features that will help enhance productivity while improving operator safety. The new INTENSIFIRE LED headlamps offer exclusive EdgeView Technology, which features a dedicated lens and LED bulb that directs light through the outer edge of each headlamp. The design provides a full 180 degrees of light visibility from plow edge to plow edge for the best all-around view of the plow's operating environment.

The headlamps offer 100% LED performance, providing up to two times the light output of halogens for maximum visibility. In addition, they were designed with solid-optic elements that allow for a superior lighting pattern. Solid optics focus the light into a specifically tuned pattern, shining the light exactly where it needs to be, rather than relying on reflectors to aim the light outward. This allows the INTENSIFIRE LED headlamps to have a wider, fuller pattern in low and high beam so that operators have better visibility while driving and plowing.

The INTENSIFIRE LED headlamps feature an innovative heating system and advanced lens design to help prevent ice bridging. The intuitive heating system on these headlamps senses the temperature on the lens so that the heating elements only activate when necessary. In addition, the lens of the headlamps features a unique, forward-sloped design that reduces or eliminates "ice bridging" when plowing. Ice bridging—a common problem with some LED headlamps—can reduce visibility and hinder performance by allowing ice to thaw and then refreeze in front of the lens.

"Every time we release a new product, we want to make sure our customers are getting the best available solution on the market," said Fisher Engineering Product Manager Tyler Jones. "We've been designing, engineering and testing these new LEDs for about two years now in order to ensure they would deliver the best-in-class performance that would set them apart from the rest of the market. We're extremely proud of them and we feel they are the best LED snowplow headlamp solution on the market. Period."

The new INTENSIFIRE LED headlamps will be offered as an option for FISHER truck plows. To verify vehicle compatibility, be sure to continually check our eMatch program at FisherPlows.com for the most up-to-date vehicle applications.
More From 7/10/2019 on FacilitiesNet